Ubud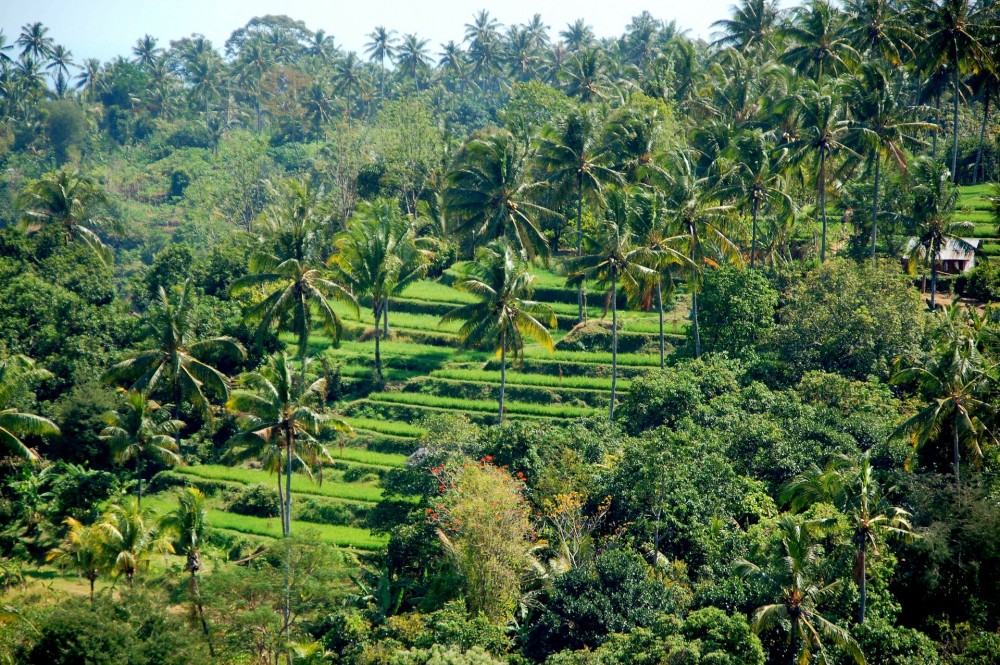 About Ubud
Ubud, a town in central Bali, is far removed from the beach party scene in Kuta, and is regarded as the cultural centre of Bali. It is famous as an arts and crafts hub, and much of the town and nearby villages seems to consist of artists' workshops and galleries. There are some remarkable architectural and other sights to be found, and a general feeling of well being to be enjoyed, all thanks to the spirit, surroundings, and climate of the place.
Around Ubud the surrounding villages like Campuhan, Penestanan, Peliatan and Batuan specialise in crafts and woodcarving which are sold all over the island. There are hundreds of shops selling antiques, woodcarvings, crafts, textiles, paintings and jewellery as well as some of the best art museums in the country, dozens of art studios, an excellent local craft market and galleries.
Central Ubud can be covered on foot, but you will need some form of transport to explore the extended vicinity.
Ubud is generally a little quieter, and the streets calmer than the more urbanised parts of Bali. So whilst traffic is slower than in downtown Kuta for example, the sidewalks are often blocked by motorbikes, or a collapsed section necessitates a step off the sidewalk potentially placing you in the path of traffic.
Ubud, near Bali's cool central upland, is a treasure trove of cultural landmarks, ranging from ancient temples and majestic age-old royal palaces, to wonderful panoramas of green hillsides and rice terraces. The town and its outskirts within the Gianyar regency, is your holiday destination if you are also into the Balinese culture, arts and crafts, as it was where some of the world's notable artisans and collectors have visited, lived and worked, creating or compiling eclectic masterpieces that you can observe in local museums and art galleries.
Far more off the beaten path is to explore the rice fields immediately north of town. A good route is to take Jl Raya eastwards from the town centre and turn north up the small road immediately adjacent to the BCA Bank building. Proceed up this road through the village of Kutuh and just keep going, turning where you feel like it. This is a very gentle, rural area with some lovely landscape. A great way to explore is by bicycle as there are no steep hills to negotiate here.
Culture
The town and area has a number of art museums, such as the Blanco Renaissance Museum, the Puri Lukisan Museum, Neka Art Museum, and the Agung Rai Museum of Art. Close-by is the Museum Rudana in Peliatan, The Tek Tok is a traditional Balinese dance that is accompanied by musical sound of mouth 'Tek Tok' altogether with various combinations of body movement and other sounds. Tek Tok dance tale taken from the Mahabharata, where Draupadi at stake in a gambling.
The war between righteousness and villainy become part of the philosophy of life which has never dimmed. The story "Draupadi Parwa" Tek Tok Dance gives a moral message which when a woman who embodies the values of patience, sacrifice, compassion, devotion, and a holy sincerity is not respected, then disasters and calamities will befall a kingdom or state. This story also gives the message that truth, virtue, devotion and genuine compassion will always be protected by God.
Tek Tok Dance performance held regularly in Bali Culture Center (BCC) Ubud, Bali four times a week.
The area around Ubud is characterised by gently rolling rice paddies, and these create an impression of greenness which can be quite startlingly beautiful. This is especially true to the south and southeast of the town. Any visitor approaching from the south will appreciate this and it is worth a stop just to absorb the gentle beauty of it all.
Northeast of Ubud town centre the land starts to become more undulating, and this is a good place to view Bali's classic rice terraces. The village of Tegallalang is very much a tourist trap, but it is worth braving the hordes of trinket peddlers to view the stunning terraces there. From the town centre, take Jl Raya as far east as you can go, and then turn north and continue about 9km until you reach Tegallalang. Look for the picture postcard rice terraces on you right-hand side. For those moving on north to the Kintamani area, this is on route and makes for an easy stop. A small fee is charged to cars entering, at least to tourists in hired cars.
Nature
The Ubud Monkey Forest is a sacred nature reserve located near the southern end of Jalan Monkey Forest. It houses the temple of death, and approximately 340 crab-eating macaque (Macaca fascicularis) monkeys live there.
History
Eighth-century legend tells of a Javanese priest, Rsi Markendya, who meditated at the confluence of two rivers (an auspicious site for Hindus) at the Ubud locality of Campuan. Here he founded the Gunung Lebah Temple on the valley floor, the site of which remains a pilgrim destination. The town was originally important as a source of medicinal herbs and plants; Ubud gets its name from the Balinese word ubad (medicine).
In the late nineteenth century, Ubud became the seat of feudal lords who owed their allegiance to the king of Gianyar, at one time the most powerful of Bali's southern states. The lords were members of the Balinese Kshatriya caste of Sukawati, and were significant supporters of the village's increasingly renowned arts scene
Where to stay:
Accommodations in Ubud are also somewhat more reasonably priced than in the beach towns of Bali. But atmosphere is perhaps the major attractions. One visitor summed it up this way: Kuta is madness, Sanur is sterile, and Nusa Dua is culturally isolated; Ubud is the place to go.
Ubud Hotel Map:
Please contact us for hotel reccomodations in Ubud.
Recommendet Hotels:
Ubud Hotel Deals:
| | |
| --- | --- |
| Country | Indonesia |
| Country name | Indonesia |