Availability
We are sorry, this accommodation is not available to book at the moment
General
Riverside Villa Pelangi
4 bedroom villa in Ubud, Bali
The four-bedroom, 800 sqm main house at Villa Pelangi opened its doors in 2011 and displays an elegant fusion of Asian- Modern and Italian design elements which are highlighted by coloured Venetian plaster walls, arched doorways and rich tropical hardwood or acid-washed Sulawesi marble floors throughout.
Villa Pelangi offering the utmost in privacy and peace, it is conveniently located just a 15-minute drive (or a 40-minute walk) from the centre of Ubud, Bali's culture and arts community, made famous by the popular book/movie 'Eat, Pray, Love'. Ubud is also the craftsmen's capital of Bali, and Singakerta village is home to a few families of very talented woodcarvers. Adventures abound in the surrounding area with whitewater rafting, hiking, bird watching, inner-tubing in the river and trekking in the rice fields. World class restaurants, art galleries, spas and shopping are all nearby.
THE VILLA
The lower level is comprised of the Mango and Papaya bedrooms, both of which face the Wos river gorge. Both are furnished with four-poster queen-sized beds, and both feature a river view lounge area with desk and plantation chairs. Amenities include air conditioning, Wi-Fi internet, ceiling fans, iPod docks, mosquito nets and reading lights. The semi-open air en-suite bathrooms include rain showers with a hand-held option, charming garden baths with marvelous views over the river as well as generous closet space and a safe deposit box.
The first floor houses the main entry, the kitchen, a combined living/dining/media room, the Aqua bedroom and a bathroom.
Large stones steps lead guests to a grand entrance way flanked by antique teak wood pillars and a koi pond that leads into the foyer, which is a breathtaking experience of colorful art and décor.
Guests can step down to the open-plan living room and into a comfortable U-shaped sectional sofa that overlooks the rice terraces, or retire to the adjacent recessed media lounge for the perfect movie-watching experience. The formal dining area, with its grand 9ft table easily seats 14 guests and offers panoramic views of the gardens and river through the floor- to-ceiling windows. For casual dining, guests may choose the breakfast room off the kitchen, or the breezy poolside patio – each with seating for four. Additional seating at three bars accommodates seven on padded swiveled bar stools.
An open skylight atrium fills the living room with natural light. While at night, colored Moroccan lamps add a touch of exoticism to the ambiance.
Off the breakfast room is the Aqua Bedroom with a netted, sleigh-style double bed, two sectional sofas that convert to beds for 2-3 kids, and a garden view over its own plunge pool.
A modern kitchen exclusively for guest use is stylishly designed for convenience and efficiency with strategic spot lighting, plenty of granite counters and cupboard space, two sinks, and lots of appliances. A central island with a stove and preparation area provides an arena for cooking classes, while the kitchen and pantry are stocked with cooking accessories, tableware, and small appliances (blender, toaster, coffee press, electric kettle, etc.). Drinking water always available, either cold from the fridge, or room temperature from the dispenser.
Amenities on the second level (living/dining room, kitchen, and bedroom) include: bathroom and powder room, ceiling and wall fans, 42″ HD TV, six-speaker sound system, portable iPod dock, free Wi-Fi internet, board games, Modena stove and oven, large capacity fridge with filtered water and ice maker.
The second and the third floor house the luxurious master suite, yoga studio, verandas, loft and meditation tower. The private and opulent Pelangi Suite comprises 250 square metres of split-level living space with numerous wraparound decks and soothing tones of sky blue and azure walls that provide the perfect backdrop for a collection of Asian art and luxurious furnishings. It also includes an office that doubles as a yoga studio for up to 16 people, from where rice farmers can be seen tending their fields.
The master bedroom features a 7 x 7 foot, mosquito-netted, Chinese opium bed with TV placed inside the master bed canopy, ample storage and a safe, and opens onto a gated garden and a large waterfall-fed pool. An outdoor dining table shaded by a umbrella offers views of the river, and an antique lounging sofa is the perfect place for sipping sunset cocktails, while chaise lounges and side tables are provided for comfortable sunbathing beside the saltwater swimming pool. The large master bath offers his-and-hers sinks, private toilet, outdoor shower with direct pool access, and a two-person bathtub surrounded by a koi pond. Whimsical stone carvings adorn the rock walls and orchids and ferns create a jungle fantasy effect while glass tile skylights provide plenty of natural light.
At the top of a spiral staircase off the bedroom foyer is a large loft with two single beds for extra sleeping options. A ladder from the loft provides access to a 12 sqm. treetop-level meditation tower with panoramic views over the rice fields and the river valley.
Third floor amenities include: four-speaker sound system for CD and iPod, TV inside the master bed canopy, Far-infrared detox sauna, safe, mini-fridge, workout equipment (bands and weights), flat screen TV, Wi-Fi internet, and massage tables (may be used throughout property). There are no aircons in the master bedroom due to its highest location above the grounds normally cooled enough by the pleasant natural breeze however the portable air conditioner can be prepared and placed by the canopy bed on guest's request.
Check-in time
14:00
Check-out time
12:00
Check-in time
14:00
Check-out time
12:00
Facilities
Air Condition
Car rental
Catering service
Dining room
Free WiFi / Internet
Garden
In room: Free toiletries
In room: Hairdryer
In room: Ironing board
In room: Safety Deposit Box
In room: TV
Lounge
Outdoor pool
Private bathroom
Private kitchen
Sauna
Seating area
Sun chairs
Tour desk
Facilities & Facts
Rate inclusive of:
-Accommodation for two persons per bedroom. Extra person surcharge is 40 USD ++ / per day (subject to 18% tax & service charge). Maximum occupancy of the main house Villa Pelangi is 12 (two extra beds in Aqua bedroom and two extra beds in the sleeping loft).
-All bedrooms are air-conditioned with ceiling fans (except the sleeping loft of the master Pelangi Suite)
-Welcome drinks, fruits and chilled towels -Security gate with closed-circuit video -Shared estate staff: villa supervisor, maids, gardeners, engineering, pool cleaner, night time security -Complimentary Wi-Fi Internet throughout the property
-Fully equipped kitchen -One or two naturally-designed saltwater swimming pools -Several outdoor yoga decks -iPod docks in every bedroom and two six-speakers sound systems: one in the living room and one in the master bedroom -Entertainment lounge with flat screen 42" TV, satellite TV channels and DVD player
-Complimentary drinking water and coffee and tea facilities -Bathroom gels, amenities, towels and linen -Daily housekeeping -Complimentary cell phone for free local phone calls (one for villa Pelangi and one for Bhutan cottage)
-Free once-daily shuttle into Ubud and back in six-seater villa car based on availability and others guests' schedule -One baby cot and one baby high chair per villa (extra cribs and high chairs available at extra charge)
-For the catering needs you're welcome to choose between self-catering accommodation; or order delicious and healthy meals for breakfast, lunch and dinner by menu (ordered in advance) and staff will deliver and serve in premises of each house: approximately US$ 3-15 per meal; or hire our professional chef to cater your every whim based on your personal dietary preferences (US$ 45 per day for groups of maximum 10 people, and US$ 75 per day for groups of 10-21 people for one chef and one cook). Breakfast time starts at 7 AM, and dinner serving time finish at 8 PM. Late service after 8 PM and till 11 PM will be charged as US$ 48 / day for 2 staff and 1 cook late hours or US$ 24 / day for 2 housekeeping staff only.
We are sorry, there are no reviews yet for this accommodation.
Ubud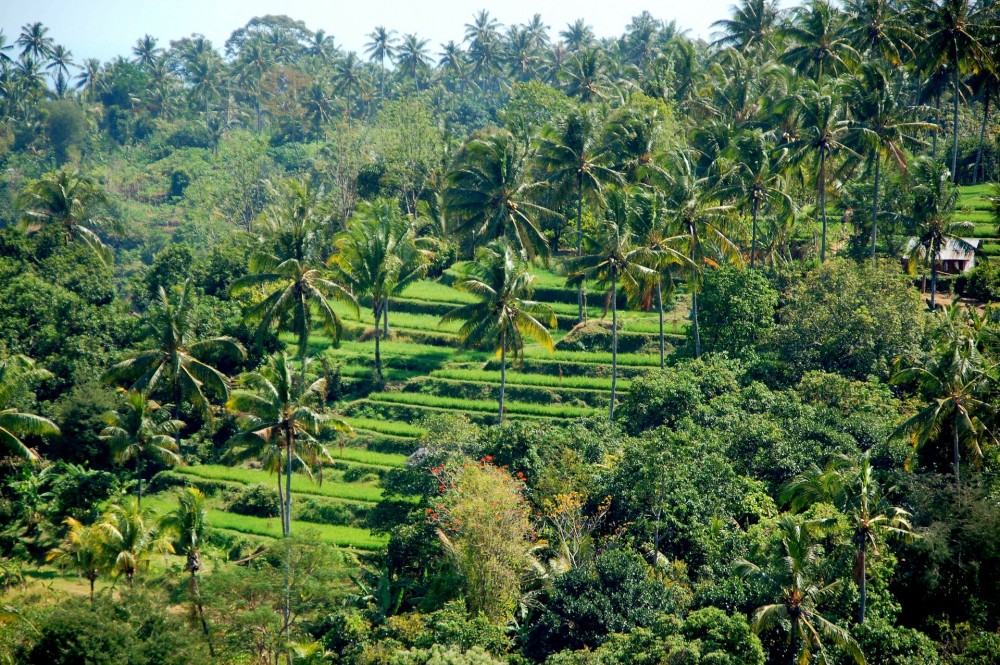 About Ubud
Ubud, a town in central Bali, is far removed from the beach party scene in Kuta, and is regarded as the cultural centre of Bali. It is famous as an arts and crafts hub, and much of the town and nearby villages seems to consist of artists' workshops and galleries. There are some remarkable architectural and other sights to be found, and a general feeling of well being to be enjoyed, all thanks to the spirit, surroundings, and climate of the place.
Around Ubud the surrounding villages like Campuhan, Penestanan, Peliatan and Batuan specialise in crafts and woodcarving which are sold all over the island. There are hundreds of shops selling antiques, woodcarvings, crafts, textiles, paintings and jewellery as well as some of the best art museums in the country, dozens of art studios, an excellent local craft market and galleries.
Central Ubud can be covered on foot, but you will need some form of transport to explore the extended vicinity.
Ubud is generally a little quieter, and the streets calmer than the more urbanised parts of Bali. So whilst traffic is slower than in downtown Kuta for example, the sidewalks are often blocked by motorbikes, or a collapsed section necessitates a step off the sidewalk potentially placing you in the path of traffic.
Ubud, near Bali's cool central upland, is a treasure trove of cultural landmarks, ranging from ancient temples and majestic age-old royal palaces, to wonderful panoramas of green hillsides and rice terraces. The town and its outskirts within the Gianyar regency, is your holiday destination if you are also into the Balinese culture, arts and crafts, as it was where some of the world's notable artisans and collectors have visited, lived and worked, creating or compiling eclectic masterpieces that you can observe in local museums and art galleries.
Far more off the beaten path is to explore the rice fields immediately north of town. A good route is to take Jl Raya eastwards from the town centre and turn north up the small road immediately adjacent to the BCA Bank building. Proceed up this road through the village of Kutuh and just keep going, turning where you feel like it. This is a very gentle, rural area with some lovely landscape. A great way to explore is by bicycle as there are no steep hills to negotiate here.
Culture
The town and area has a number of art museums, such as the Blanco Renaissance Museum, the Puri Lukisan Museum, Neka Art Museum, and the Agung Rai Museum of Art. Close-by is the Museum Rudana in Peliatan, The Tek Tok is a traditional Balinese dance that is accompanied by musical sound of mouth 'Tek Tok' altogether with various combinations of body movement and other sounds. Tek Tok dance tale taken from the Mahabharata, where Draupadi at stake in a gambling.
The war between righteousness and villainy become part of the philosophy of life which has never dimmed. The story "Draupadi Parwa" Tek Tok Dance gives a moral message which when a woman who embodies the values of patience, sacrifice, compassion, devotion, and a holy sincerity is not respected, then disasters and calamities will befall a kingdom or state. This story also gives the message that truth, virtue, devotion and genuine compassion will always be protected by God.
Tek Tok Dance performance held regularly in Bali Culture Center (BCC) Ubud, Bali four times a week.
The area around Ubud is characterised by gently rolling rice paddies, and these create an impression of greenness which can be quite startlingly beautiful. This is especially true to the south and southeast of the town. Any visitor approaching from the south will appreciate this and it is worth a stop just to absorb the gentle beauty of it all.
Northeast of Ubud town centre the land starts to become more undulating, and this is a good place to view Bali's classic rice terraces. The village of Tegallalang is very much a tourist trap, but it is worth braving the hordes of trinket peddlers to view the stunning terraces there. From the town centre, take Jl Raya as far east as you can go, and then turn north and continue about 9km until you reach Tegallalang. Look for the picture postcard rice terraces on you right-hand side. For those moving on north to the Kintamani area, this is on route and makes for an easy stop. A small fee is charged to cars entering, at least to tourists in hired cars.
Nature
The Ubud Monkey Forest is a sacred nature reserve located near the southern end of Jalan Monkey Forest. It houses the temple of death, and approximately 340 crab-eating macaque (Macaca fascicularis) monkeys live there.
History
Eighth-century legend tells of a Javanese priest, Rsi Markendya, who meditated at the confluence of two rivers (an auspicious site for Hindus) at the Ubud locality of Campuan. Here he founded the Gunung Lebah Temple on the valley floor, the site of which remains a pilgrim destination. The town was originally important as a source of medicinal herbs and plants; Ubud gets its name from the Balinese word ubad (medicine).
In the late nineteenth century, Ubud became the seat of feudal lords who owed their allegiance to the king of Gianyar, at one time the most powerful of Bali's southern states. The lords were members of the Balinese Kshatriya caste of Sukawati, and were significant supporters of the village's increasingly renowned arts scene
Where to stay:
Accommodations in Ubud are also somewhat more reasonably priced than in the beach towns of Bali. But atmosphere is perhaps the major attractions. One visitor summed it up this way: Kuta is madness, Sanur is sterile, and Nusa Dua is culturally isolated; Ubud is the place to go.
Ubud Hotel Map:
[tp_hotelmap_widget coordinates="-8.519268, 115.263298" width=100% height=500 zoom=12]

Please contact us for hotel reccomodations in Ubud.

Recommendet Hotels:

[tp_hotel_widget hotel_id=17846 responsive=true] [tp_hotel_widget hotel_id=318433 responsive=true] [tp_hotel_widget hotel_id=318474 responsive=true]

Ubud Hotel Deals:

[tp_hotel_selections_widget id=23545 cat1="4stars" cat2="tophotels" cat3="rating" type=compact limit=10]
Attractions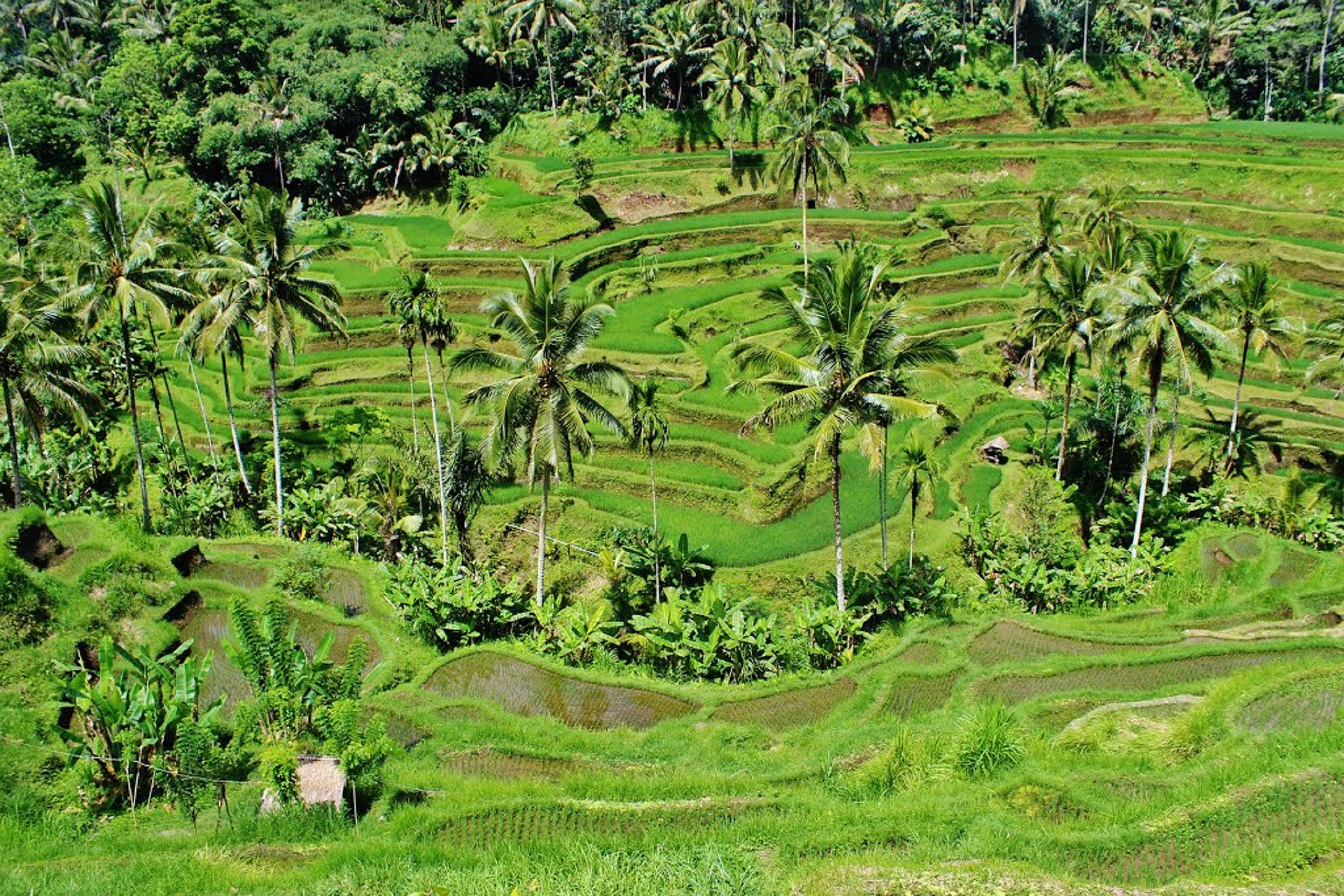 Ubud is so crammed with attractions it can almost seem like a visual assault at times. Try to make sure you allocate at least a week for your visit here, and take your time to explore properly. Visitors who jump in to Ubud for just two or three days of their Bali holiday, stand little chance of understanding much of what is going on around them.

Goa Gajah is one of the island's most impressive archaeological sites, located south of the Bedulu village, a region famous for its collection of historical sites. The temple complex is within a six-kilometre drive south of central Ubud and an hour's drive northeast from the provincial capital of Denpasar.

Ubud Monkey Forest is one of Bali's several grey long-tailed macaque-inhabited forests, and perhaps the best known among the rest due to its community-based management, location and ease of access. It lies on the fringes of the Ubud main centre, and is overseen by the Padangtegal village. Also known as the Sacred Monkey Forest of Padangtegal.

Bali's traditional, centuries-old cooperative irrigational system known as 'Subak' has created among the most beautiful terraced landscapes in Southeast Asia. Several minutes' drive north of the main Ubud centre is the cool upland area of Tegallalang, which has become famous for its scenic stopover where travellers to the northern region drop by for snapshots and souvenirs.

Puri Saren Temple - Just a hop away from the Ubud Art Market is the palace of the Ubud royal family, referred to as Puri Saren Agung. The Ubud Royal Palace is one of the most prominent places in Ubud, as it is smack-dab on the main Jalan Raya Ubud road and intersection.

Blanco Renaissance Museum is an unofficial landmark in Ubud, the house and studio of the late flamboyant Philippine-born maestro, Don Antonio Blanco. Located on a hilltop overlooking the lush valley of Campuhan, it houses paintings, collages and illustrated poetry, together with lithographic artworks of his favourite subject: nude Balinese women.

Bali Bird Park & Reptile Park is a unique and educational attraction fit for the whole family. Two hectares of fine tropical gardens offer an interesting leisurely walk amidst the rich compilation of nearly a thousand exotic birds from the Indonesian archipelago and around the world. The Bali Bird Park is located in the village of Batubulan, Gianyar Regency.

Bali Zoo, locally referred to as 'Kebun Binatang Bali', is the only animal attraction in Bali using 'zoo' in its name. The zoo is set over 8ha of lush tropical gardens in the village of Singapadu, Gianyar regency. The zoo is a convenient stopover before Ubud on tours from the island's south.

Gunung Kawi (Poet Mountain), Tampaksiring (18 km northeast from Ubud). Daily 07:00-17:00. Dating from the eleventh century, this is presumed to be the burial complex of King Anak Wungsu and his many wives. Reached by climbing down 371 steps, the location at the bottom of a steep valley lined with paddy fields, is quite stunning. It's not easy to climb all those steps but to see one of Bali's oldest and largest ancient monuments in this lush green river valley is worth it. The smaller complex on the south side of the river is presumed to have been built for the King's wives, while the larger complex is thought to have been the residence of the King himself, and perhaps his concubines. The structures are carved into the sides of a steep river valley, and the river crossed by twisting trees and vines.

Tirta Empul, Tampaksiring (20 km northeast from Ubud). Daily 08:00-18:00. One of the holiest temples in Bali built around hot springs that still bubble in the central courtyard. The Balinese come here to bathe and purify themselves physically and spiritually, and during Galungan, the sacred barong masks are bathed here. Take extra clothes if you want to bath with locals. Water from the spring is clean and believed to have magical powers. The complex dates to 960 .

Neka Art Museum, in Jl Raya Sanggingan, Kedewatan. This museum houses perhaps the most important art collection in the whole of Bali. Six pavilions house the various collections which include dedicated rooms for artists Arie Smit and I Gusti Nyoman Lempad. Our favourits are pictures from abdul Asis.

The village of Tegallalang you can reach on a very busy street, but it is worth braving the hordes of trinket peddlers to view the stunning terraces there. From the town centre, take Jl Raya as far east as you can go, and then turn north and continue about 9km until you reach Tegallalang. Look for the picture postcard rice terraces on you right-hand side.

The White Herons of Petulu, Petulu. Every evening between 15,000 and 20,000 cattle egrets, known colloquially as white herons and in Balinese, kokokan, roost in the village of Petulu just ten minutes north of Ubud. It is quite a spectacle as these large, elegant white and rusty orange birds arrive in countless groups and tussle for the prime roosting spots. Each morning at dawn they leave en-masse to find feeding spots around the island.


Things to do:
Blanco Renaissance Museum is an unofficial landmark in Ubud, the house and studio of the late flamboyant Philippine-born maestro, Don Antonio Blanco. Located on a hilltop overlooking the lush valley of Campuhan, it houses paintings, collages and illustrated poetry, together with lithographic artworks of his favourite subject: nude Balinese women.

Walk: For a free and easy nature trek in Ubud, try the Campuhan Ridge Walk that offers you an escape from the bustles of the main Ubud streets to enjoy cool fresh air and probably the most gorgeous hillside vista in the region. It starts off from the scenic Gunung Lebah Temple, and there's a chance you'll meet a few fellow trekkers and joggers on their way back from their morning walks.


Restaurants
Some good restaurants in Ubud are:

Bridges Bali is one of Ubud's most famous and scenic dining spots, overlooking the Campuhan River. As one of the best restaurants in Ubud, the multiple-level venue features a dedicated wine bar upfront, and inside you will enjoy a cosy and elegant setting with spaces that also double as an art gallery featuring regular painting, sculpture and artistic photographic exhibits. Bridges Bali serves casual lunches and romantic candlelit dinners with Asian and Western delicacies. (Campuhan Bridge, Jalan Campuhan, Ubud)

Mozaic essentially presents French-inspired Balinese and Indonesian cuisine to the island's fine dining scene. One of Ubud best restaurants, this award-winning garden restaurant and lounge is tucked away in Ubud's quieter part on Jalan Raya Sanggingan, only several minutes' drive up from the main Ubud hub. Mozaic offers fine dinners in a lush and romantic open garden setting and in a spacious and cosy dining pavilion. Chef-owner Chris Salans presents his fresh approach to French cuisine that incorporates local, exotic Balinese ingredients through a varying menu, together with private dinner experiences. (Jalan Raya Sanggingan, Ubud)

Seniman Coffee Studio serves great cups of Java while in Ubud. The quirky café is located on Jalan Sriwedari. Step into the artistically laid-out space and enjoy vast selections of specialty single-origin coffee from over five different regions in Indonesia, prepared using siphon, pour-over drip, hand-pull and Italian espresso brewing methods. 'Artist' in the local tongue, Seniman is a great stopover where you can enjoy great brews in cosy, artistic interiors with in-house designed furniture and 'up-cycled' glassware. (Jalan Sriwedari, Ubud)


---
Read more