Lovina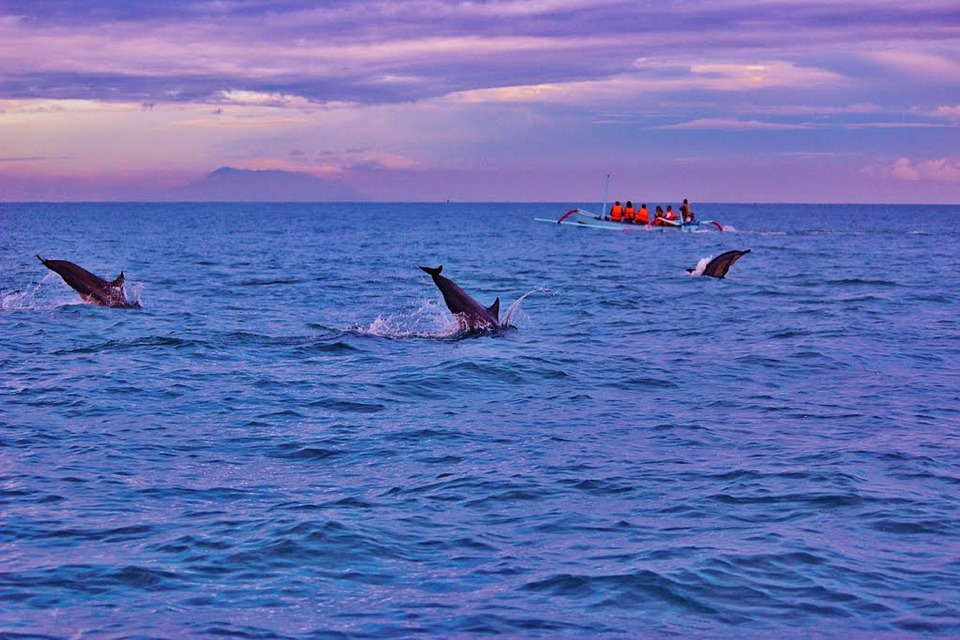 Lovina
Lovina Beach is a laid back 12 km stretch of coast to the West of Singaraja in North Bali. It is a welcome break from the bustle of the South. These days the mix of tourists is mainly families and couples rather than the backpackers of yesteryear.
The beaches of Lovina are unique in its kind and very characteristic through the black sand which was deposited in ancient times by enormous volcanic eruptions in the Bedugul area.  The coastal area of Lovina is rural; one will regularly encounter farm land and rice fields bordering the beaches, with villages amidst coconut, banana and mango plantations along the mountain side of the main road that runs parallel to the coast between Singaraja and Seririt.
Lovina's black sand beaches are quite lovely and lend themselves well to exploration on foot at a leisurely pace. The sea is very calm here and is safe for swimming. The feeling on the beaches is one of laid-back tranquility with small, colourfully decorated traditional outriggers called perahu dotted along the shoreline. These are a reminder that you are in a traditional fishing community.
Lovina is a relatively new name coined in the 1950s by the late king of Buleleng (Buleleng Regency) Anak Agung Panji Tisna, with a good eye for future tourism-based development. It started with small lodge built on his own land and named Lovina.
The whole stretch of coastline in the north is fringed by quite narrow black sand beaches, which are accessed by a multitude of small lanes which run perpendicular to the east-west coast road. The beaches are generally safe for swimming, and the waters of Bali's north coast, in direct contrast to the crashing surf of the south, are relatively calm. From a distance, the water does not look too clean due to the colour of the sand but it is in fact almost always crystal clear. The locals do make an attempt to clear away plastic flotsam too. The beaches of Lovina are situated at a bay with shallow water and are protected by coral reef. There are no dangerous currents in the sea of Lovina and therefore it is very safe for swimming and snorkeling. For this reason Lovina appeals especially to families with children.
You can easily get to Lovina by bus from all parts of Bali, but it is a long ride from the East or South. Getting your own car with or without a driver ( I don't recommend without!!) is a much easier way to get to the North.
Diving, snorkelling fishing dolphin watching, diving on coral reefs are the main activities, but perhaps above all else, this is an area in which to relax and take in a very slow, traditional pace of life.
The dolphin wathing trips usually last about two hours, and generally cost anywhere between 60,000 – 250,000 Indonesian rupiah, which translates to about $5 – $20 USD,
Nighlife: In Lovina there are cosy bars where you can enjoy a cocktail or a Bintang beer and life music. Most famous bars are ZigiZ, Poco Bar and Planet Lovina. A beach club is right on the beach named "Spice Beach Club Lovina".
Lovina is ideal for family groups with young children or older adventurers who want to kick back and quickly become part of the community. It can get a little crowded in July and August, but outside that peak season, this is a quiet part of the island.  More about Lovina
Lovina Map & Hotels:

Hotel Deals:
| | |
| --- | --- |
| Country | Indonesia |
| Good to Know | You will be offered dolphin sighting trips every other minute. These leave the main beaches each morning at dawn, and have mixed reviews as the boats tend to outnumber the dolphins. It can still be an enjoyable ride, and if you do find a lot of dolphins it is of course very worthwhile. |
| Country name | Indonesia |