Availability
We are sorry, there are no rooms available at this accommodation at the moment
General
The Lovina Hotel
Nestled on the beach, between the Bedugul mountain range and the Bali sea, the Lovina Resort is surrounded by various attractions.  Just two and half hours drive from the hustle and bustle of the busy tourist areas in the south, you will enjoy a relaxing Bali holiday.
Facilities & Activities:
The only luxury beachfront hotel in the area, THE LOVINA Bali Resort offers a seamless combination of the laid back rhythm of Balinese life and the superior amenities you deserve. The main pool, beach and Beach Bar invite you to enjoy stunning North Bali sunset each evening. Pampering spa treatments, Dolphin watching, trekking to waterfalls, hot springs and diving or snorkelling around Menjangan island, home to the best preserved coral reef in Bali.  Enjoy a poolside lunch or time relaxing on the beach while our friendly staff will gladly organize fun activities for our young guests. Kids Club is open till 5pm each day. For a night out the Lovina also offer our babysitting service. The  fitness studio will accommodate your exercise requirements.  A spacious meeting room facing the ocean is available to accommodate business professional requirements or to discuss your future business plans.
Rooms, Suites & Villas
The well-designed villas are spacious and feature an open concept design. Full kitchen facilities are available in select units, while a flat-screen TV and DVD player are included in all units. En suite bathrooms have either a bathtub or shower.
Overlooking the stunning Kalibukbuk mountain range and rice paddies, the Deluxe Studio has a comfortable bedroom and spacious living room area. The tastefully decorated studio offers luxury at an affordable price. Spend your mornings lazing around the Mountain View pool.  Spacious, light and airy, the Beach Suites have an open plan accommodation that combines kitchen, dining and living area – all opening up to a terrace or balcony overlooking the main pool and Bali Sea.  Spacious, light and airy, the Deluxe Villas have an open plan accommodation that combines kitchen, dining and living area – with private fencing, garden and a plunge pool. The villas are available in one or two bedrooms, each with ensuite bathrooms and have all been stylishly furnished.
All of our individually designed Garden Pool Villas provide a calm and luxurious environment encircled by the rich greenery of tropical gardens. With a private pool, and airy open plan kitchens and living spaces – these stylishly furnished villas are moments away from our main pool, beach and Beach Bar.
In the Terrace Beach Villas, you will enjoy lounging by your private pool, or relaxing on your terrace in your own private garden overlooking Lovina beach. Private access to the beach allows you to enjoy stunning views of the Bali Sea, with local fishermen casting their nets at sunset make this an unforgettable experience.
Dining:
The Heliconia Restaurant is a culinary delight. From freshly caught Yellowfin Tuna sashimi,or grilled Mahi Mahi, to eye fillet steak, sambal prawns, or a homemade pizza from our wood fired pizza oven!  European, Mediterranean, Chinese and Balinese dishes are served at the on-site Heliconia Restaurant.  Guest can choose from the best cocktails in Bali or the extensive wine list and finish your meal with a choice of homemade ice cream and sorbets.
Best Hotel Rates at:

Check-in time
14:00
Check-out time
12:00
Check-in time
14:00
Check-out time
12:00
Facilities
24 Hours reception
Bar
Children facilities
Fitness center
Free WiFi / Internet
Garden
In room: Free toiletries
In room: Hairdryer
In room: IDD Telephone
In room: Minibar
In room: Safety Deposit Box
In room: TV
Laundry service
Lounge
Outdoor pool
Restaurant
Room service
SPA
Sun chairs
Tour desk
Water sports
Accommodation review scores and score breakdown
10
/ 10
Based on 1 reviews
Location

9

Facilities & Activities

10

Comfort

10

Rooms

10

Sleep quality

10

Cleanliness

9

Food & Beverage

9

Services

0

Value for money

0
Guest reviews
Joerg
2017-01-03



Best hotel in Lovina, great villas with private pool. Good restaurant & friendly staff.

a bit far from the airport.
Lovina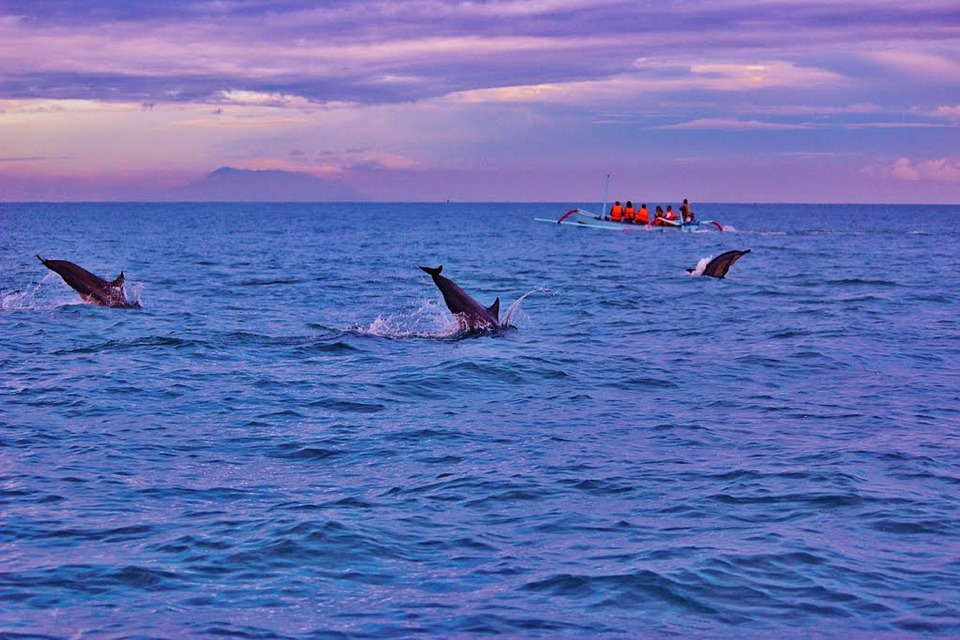 Lovina

Lovina Beach is a laid back 12 km stretch of coast to the West of Singaraja in North Bali. It is a welcome break from the bustle of the South. These days the mix of tourists is mainly families and couples rather than the backpackers of yesteryear.
The beaches of Lovina are unique in its kind and very characteristic through the black sand which was deposited in ancient times by enormous volcanic eruptions in the Bedugul area.  The coastal area of Lovina is rural; one will regularly encounter farm land and rice fields bordering the beaches, with villages amidst coconut, banana and mango plantations along the mountain side of the main road that runs parallel to the coast between Singaraja and Seririt.
Lovina's black sand beaches are quite lovely and lend themselves well to exploration on foot at a leisurely pace. The sea is very calm here and is safe for swimming. The feeling on the beaches is one of laid-back tranquility with small, colourfully decorated traditional outriggers called perahu dotted along the shoreline. These are a reminder that you are in a traditional fishing community.
Lovina is a relatively new name coined in the 1950s by the late king of Buleleng (Buleleng Regency) Anak Agung Panji Tisna, with a good eye for future tourism-based development. It started with small lodge built on his own land and named Lovina.

The whole stretch of coastline in the north is fringed by quite narrow black sand beaches, which are accessed by a multitude of small lanes which run perpendicular to the east-west coast road. The beaches are generally safe for swimming, and the waters of Bali's north coast, in direct contrast to the crashing surf of the south, are relatively calm. From a distance, the water does not look too clean due to the colour of the sand but it is in fact almost always crystal clear. The locals do make an attempt to clear away plastic flotsam too. The beaches of Lovina are situated at a bay with shallow water and are protected by coral reef. There are no dangerous currents in the sea of Lovina and therefore it is very safe for swimming and snorkeling. For this reason Lovina appeals especially to families with children.

You can easily get to Lovina by bus from all parts of Bali, but it is a long ride from the East or South. Getting your own car with or without a driver ( I don't recommend without!!) is a much easier way to get to the North.

Diving, snorkelling fishing dolphin watching, diving on coral reefs are the main activities, but perhaps above all else, this is an area in which to relax and take in a very slow, traditional pace of life.
The dolphin wathing trips usually last about two hours, and generally cost anywhere between 60,000 – 250,000 Indonesian rupiah, which translates to about $5 – $20 USD,

Nighlife: In Lovina there are cosy bars where you can enjoy a cocktail or a Bintang beer and life music. Most famous bars are ZigiZ, Poco Bar and Planet Lovina. A beach club is right on the beach named "Spice Beach Club Lovina".

Lovina is ideal for family groups with young children or older adventurers who want to kick back and quickly become part of the community. It can get a little crowded in July and August, but outside that peak season, this is a quiet part of the island.  More about Lovina

Lovina Map & Hotels:
[tp_hotelmap_widget coordinates="-8.11667, 115.1" width=100% height=500 zoom=12 subid=""]

Hotel Deals:

[tp_hotel_widget hotel_id=157186 responsive=true subid=""] [tp_hotel_widget hotel_id=357951 responsive=true subid=""] [tp_hotel_widget hotel_id=357954 responsive=true subid=""] [tp_hotel_widget hotel_id=357948 responsive=true subid=""]
Attractions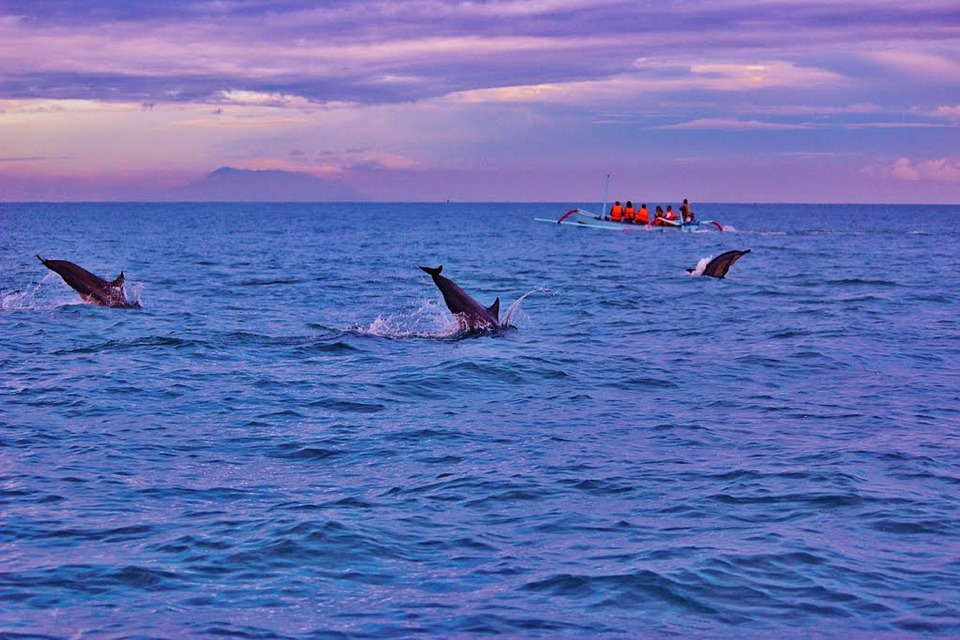 Air Banjar Hot Springs - Located west of Lovina, Air Banjar (or Panjar) is an enchanting hot springs with stone carved mouths gushing water among a lush garden setting. A nominal entrance fee is charged.

Git Git - A 40 meter high waterfall. A path of about 1 km filled with souvenir warungs and shops where you can buy cheap clothes takes you to one the most breathtaking waterfalls in Bali. Sit down there and relax with the sound of the water, falling in the bouldered river.

Bali has many many temples, each with their own meaning. East of Lovina you can find Beji Temple in Sangsit is dedicated to the Rice Goddess, Jagaraja temple remembers battles with the Dutch. To the west of Lovina is Pulaki Temple, is crowded with monkeys who are considered descendants of Dewa (God). Ulundanu Temple is located near Bedugul.

Banjar Buddhist Temple, Banjar (Head west out of town, turn left in to Banjar, then left at the market area at the center of town.). A spectacular Buddhist temple featuring something of a miniature, modern replica of Borobodur atop its peak, as well as pagodas, a pond, a meditation grove and gardens. The resident monk is apparently from Bhutan.

Singaraja is the former captial of Bali. Its a city with hosptals, pharmacies, various banks, and many markets where you can be impressed with colors and smells of Balinese food. Singaraja is home of the Gedong Kirtya library, maintaining the famous lontar manuscripts and much Balinese literature. The harbour of Singaraja shows signs of Dutch colonialism with its old storage houses.
Things to do: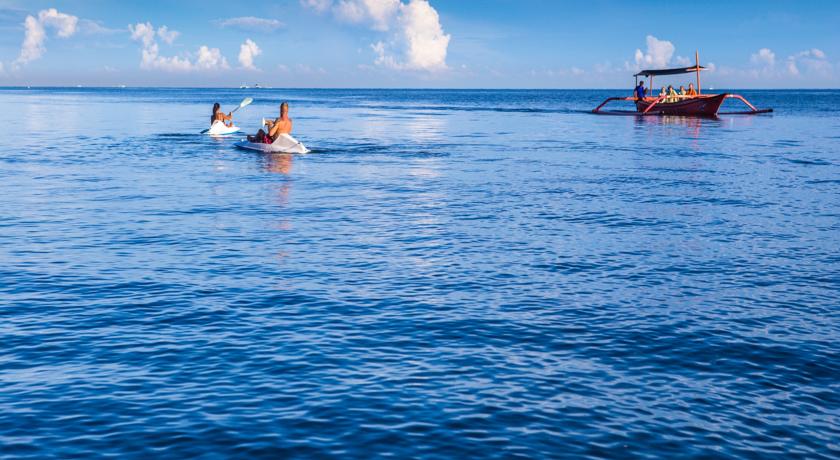 Air Banjar (or Panjar) is an enchanting hot springs with stone carved mouths gushing water among a lush garden setting.

Dolphin Trips - These trips leave early each morning and are great fun for the kids, despite the critiscism that the boats tend to outnumber the dolphins. Prices are fixed by a dolphin cartel, they are around 100,000 IDR

Pamper yourself in a Spa - Lovina is lucky to have several spa facilities. While a little more low key than the spas to the south, the service is excellent and the prices, being much less than the opulent spas in the south, are an excellent value and well worth it.

Diving -There are several dive operators based out of Lovina that operate daily dive and snorkeling trips to Menjangan Island, Tulamben and Amed, as well as dives from the local beaches. Be sensible and careful as some hotels and counters try to sell unlicensed diving trips that may look official on paper. Do not pay before you have seen the dive centre, and check that you will dive with certified divemasters/instructors.

Dace at the Volcano Club, Banyualit (on the main road, can't miss it), Open from 6PM-late. The only disco in town. If you are around on Saturday and want to make some moves with local hot ladies, you should go here. A rather bizarre rustic building which resembles a concrete cave.

Cycling - Renting a bicycle is popular and again, easy to find. Many hotels have their own. You should be aware though that away from the coast road, there are a lot of steep hills.

Just Drive and see - If you rent a motorbike or car its really worth to just drive around the villages and try some of the back roads. You will be surprised what you can see there. You'll probably run into a marriage, ceremony or cremation somewhere, where people will invite you to join, if you are daring enough to step towards them. Try one of the warungs in the villages and eat and drink what the Balinese daily eat.
Restaurants
Global VIllage Kafe, Jl Seririt-Singaraja, Kalibukuk. An excellent spot on the main road. This not-for-profit, community-supporting venture offers a selection of dishes from around the world, along with Indonesian classics. All reasonably priced. Good coffee and drinks selection, happy hour 1630-1930. Free wifi, free book exchange and movie nights.

Kopi Bali, Jl Bina Ria, Kalibukuk (near the dolphin statue). 11AM-9PM. . Cheap and cheerful Indonesian food. Extremely popular with budget travellers and a good place to hang out to talk travel.

Warung Music, Kalibukuk. This Warung is located in the heart of Kalibukbuk and is located next to the Rasta shop, which is run by the same owner. You have some really great food, for a very good price. This place is propably most fitted for younger travellers and backpackers who are looking for some contact with the locals.
---
Read more