Availability
We are sorry, there are no rooms available at this accommodation at the moment
General
The Oasis Lagoon Sanur
Sanur, Bali
The Oasis Lagoon Sanur is 5 minutes walk from the beach. A 15-minute stroll from Sanur Beach, The Oasis Lagoon is surrounded by an outdoor lagoon pool. Its spacious 4-star accommodation offers 24-hour room service and a private balcony with unique wooden decor. Free Wi-Fi is available throughout the property.
The Oasis Lagoon Sanur is 100 m from Sanur Town, where shopping options reside. It is a 30-minute drive from Ngurah Rai International Airport.  The Oasis Lagoon Sanur is not only eye pleasingly designed, carefully combining the classic and modern chic Balinese architecture, using locally sourced materials but also integrated with the local village and community around and behind. As such, during your stay, you may feel the atmosphere.
The rooms:

Deluxe room:  The resort's 57 Deluxe Rooms with  feature unique indonesian style "lesehan" balcony facing to the swimming lagoon and Sanur Village are exclusively located on the second, third and forth floor.
Studio room:  The resort's Studio Rooms are located on second and third floor; This room features one master bedroom along with a hot and cold shower bathroom with full amenities
Lagoon access:  The 21 resort's rooms are located on the first level of the resort and offer an exclusive direct access to the 1.5 meters deep lagoon pool. These are recommended for those who are looking for an active holiday activities.
Family Duplex:  A new level of warmth will be delivered by our Family Duplex Rooms. It consists of two storeys mezzanine bedrooms, 1st bedroom in upper level and 2nd room in lower level. These 29 All Family Duplex available on the top floor
Family room:  The family room comfortably accommodates four people with two separate bedrooms at the same level along with  balcony. Are specially designed for families and available at first, second and third floor
Cabana room:  The 5 resort's Cabana rooms are uniquely and exclusively dedicated for honeymooners. the most romantic room furnished with personal plunge pool and sunchair for relaxing, located at the first floor of the resort
The Hotel Features:

Restaurant, Swimming pool, Parking facilities, Bar, Spa, Meeting Room
Hotel Service:

Luggage Storage, Laundry and Dry Cleaning Service, Room Service, Doctor on call, 24 hour Reception,
Best Hotel Rats at:
Check-in time
14:00
Check-out time
12:00
Check-in time
14:00
Check-out time
12:00
Facilities
Air Condition
Baggage storage
Bar
Beach Club
Convention & meeting facilities
Free WiFi / Internet
In room: Free toiletries
In room: Hairdryer
In room: IDD Telephone
In room: Minibar
In room: Safety Deposit Box
In room: TV
Laundry service
Lounge
Outdoor pool
Private bathroom
Restaurant
Room service
Seating area
SPA
Tour arrangement
Wake up service
Facilities & Facts
The Hotel Features: Restaurant, Swimming pool, Parking facilities, Bar, Spa, Meeting Room. Hotel Service: Luggage Storage, Laundry and Dry Cleaning Service, Room Service, Doctor on call, 24 hour Reception,
We are sorry, there are no reviews yet for this accommodation.
Sanur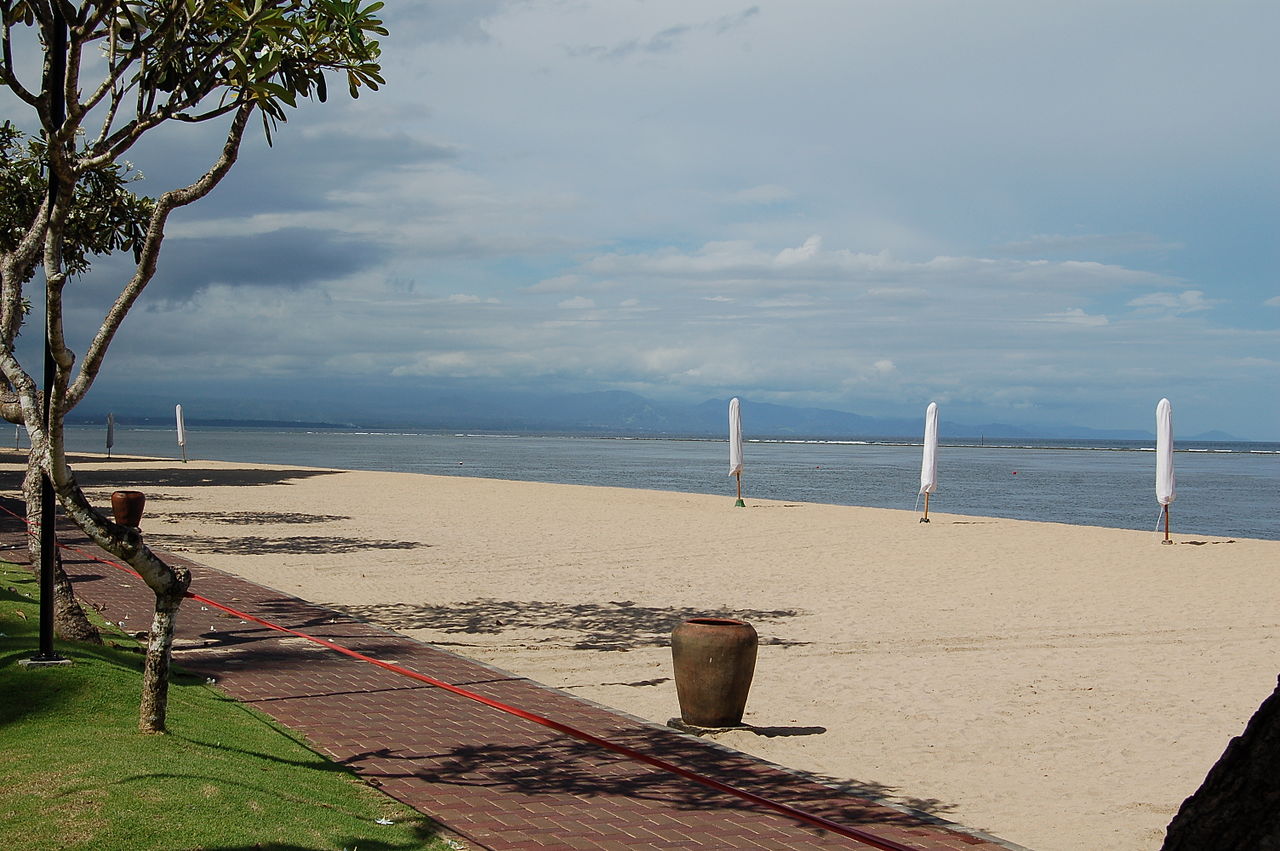 Sanur
Sanur is a coastal stretch of beach of Denpasar city of southeast Bali, about 30 minutes drive from Ngurah Rai International Airport, which has grown into a little town in its own right. A 5.1 kilometers of the Sanur's coastline from Matahari Terbit Beach to Mertasari Beach has been ready reclaimed in 2008.
Among Bali's first hotels and beachfront retreats, together with an eclectic mix of restaurants, shops and bars and an assortment of innovative and modern entertainment venues share the Sanur Beach coastline. Known for its laidback atmosphere, Sanur Beach maintains its wealth in arts and culture, making it an ideal destination to enjoy the best of both eras, classic and contemporary.
As with many of Bali's beaches, Sanur has lost a significant amount of its sand and groins have been built to try to retain what remains. Comfortable salas sit on many of these making for a comfortable spot to while away a hot afternoon. Midway along the beach there is even one that can only be swum to (or waded to at low ride).
Even though Sanur is not as hectic as trendy Seminyak, it is still heavily touristed and those seeking an untouristed Bali beach experience won't find it here. This is one of the island's original "tourist areas" and today is especially popular with families with kids. Occasionally referred to as "Snore" the pace here is far slower and sedentary than Kuta/Seminyak and by midnight just about everywhere is shutting up shop.
The northern part of Sanur beach was used as the landing site for the Dutch invasion troops during the Dutch intervention in Bali (1906). During World War II, Sanur was again the entry point through which the Japanese forces landed to occupy the island of Bali.
Today Sanur contains a number of hotel resorts such as the Fairmont Sanur Beach Bali and Bali Hyatt, The Zen Villas, etc.
Traditional fishing boats can be seen on the beach of Sanur offering a scenic view of the island Nusa Penida.
Attractions
Things to see in Sanur:

Le Mayeur Museum is a hidden treasure located right on the main Sanur Beach of Sindhum behind the array of art and souvenir stalls. This memorial museum mainly houses the artworks and personal history of painter Adrien-Jean Le Mayeur de Merpres, a Brussels-born artist who was impressed by Bali and the shores of Sanur, where he dedicated his entire life to the two things he loved the most: its arts and its women. He fell in love with a Legong dancer, Ni Pollok, who he later married and became his muse, extensively featured in his oil paintings.

Beachfront Walk

Sanur's beachfront walk was the first in Bali and has been delighting locals and visitors alike from day one. Over 4km long, it curves past resorts, beachfront cafes, wooden fishing boats under repair and quite a few elegant old villas built decades ago by the wealthy expats who fell under Bali's spell. While you stroll, look out across the water to Nusa Penida.

Blanjong Temple - Pura Blanjong, Jl Danau Poso, Blanjong (just south of Sanur). The most notable temple in Sanur which contains a major, important inscription on a stone pillar called the Prasati Blanjong. The inscription tells of a Javanese king who visited Bali in the 10th century and installed what was probably Bali's first formal government. This is Bali's oldest known artifact.

Turtle Conservation and Education Centre - Sea turtles, once a traditional commodity among the Balinese in the distant past, have turned to become a protected species, with major conservation efforts propping up around Bali. The Turtle Conservation and Education Centre (TCEC) that was set up on Serangan Island, is one of them. The TCEC serves as a hatchery, nursery and sanctuary for turtles accidentally caught by fishermen. The centre is open for the public and offers an educational day out, ideal for the whole family. A large variety of well shaded and open-air pools separate the turtles according size, with supervising staff ready to provide information and brief tours if they aren't busy cleaning and maintaining the pools or feeding the turtles.

Griya Santrian Gallery, located within the Griya Santrian boutique hotel in Sanur, is an open-air gallery that regularly hosts art exhibitions, book launches and art happenings featuring local and international artists. Easily one of the most reputable galleries of its kind in the Sanur area, it is definitely a must-visit for art and culture buffs.

The Bali Orchid Garden is a must-visit for flower lovers and gardening enthusiasts. It is located amidst the rows of local garden shops along the Bypass Tohpati road north of Sanur, which comprise a variety of lush open-air collections and stalls selling tropical flora. The Bali Orchid Garden is the only of its kind here providing tours, and inside you will encounter a world full of natural colours.

The Sindhu Beach art market is a collection of small different art and souvenir shops that you can find at the beginning of your long strolls or cycling tours at the northern end of the Jalan Segara Ayu beach path, starting from the namesake street of Jalan Pantai Sindhu and for about 400m further south.


Things to do:
Shopping: Shopping in Sanur is a laidback and easygoing affair, much in line with the general character of this quiet beach resort area. While the number of hotels and restaurants in Sanur overshadow the shops and boutiques that line its major streets, there are a select number of locations offering arts and crafts, fashion items and curios to take back home as a personal memento or souvenir.

Sanur's splendid paved beachfront cycle-path stretches some 5 km from the Jalan Mertasari area in south Sanur, north to the main beach at Jalan Hangtuah. This makes for a lovely scenic bike ride, especially in the early morning. Some bikes are better maintained than others so you might want to test your hire-bike close to home for a while in case the pedals have a tendency to fall off.

Dancing: Adora Super Club forms part of the Harrads Hotel and Spa complex, and serves as Sanur's only major nightclub. Formerly the Blue Eyes Café, this 'super club' is hard to miss as it is the first large venue you will see while heading east from Kuta along the Jalan Bypass Ngurah Rai.

Diving: Although the diving available around Sanur is not the best Bali has to offer, nearly all of Bali's most established dive operators are located here. All offer trips further afield.

A day at any of the spas in Sanur is exactly what you would expect during your stay in Bali: full service treatment steeped in Balinese tradition. Take advantage of any opportunity to enjoy a spa during your stay, the cost here is at least half what you would pay in North America or Europe. All major hotels have in-house spa facilities and there are also several well established independents in Sanur. Please check: www.baliwellnessguide.com the spa directiray for Bali.

Restaurants
Sanur is one of the main beach resort areas in Bali that has a notably large collection of restaurants and bars that are set alongside traditional 'warungs' (local establishments mostly selling local food), making it one of the best places to go to if you're in for some culinary adventures with a wide variety of food. Even though some fall into the 'fine dining' category, the overall dining atmosphere follows the general laidback nature of this quiet coastal village area.

Cafe Batu Jimbar is one of Sanur's well-known landmarks, comprising a restaurant and a café. The restaurant is best known for its all-embracing use of fresh organic ingredients, as well as a main venue for its anticipated regular Sunday morning organic markets. Naturally, most of its diners are from the health conscious crowd, but its food and presentations are delicious and top notch. Location: Jalan Danau Tamblingan no.75A, Sanur.

Char Ming is one of the luxurious restaurants in Sanur. Offering a sophisticated dining atmosphere with attention to detail, the restaurant features an impressive subtly-lit layout that blends Javanese architectural features of a 'joglo' traditional house together with Balinese touches through its 'wantilan' pavilion. Location: Jalan Danau Tamblingan 97, Sanur

Art Café Sanur, now located in new premises on Jalan Danau Tamblingan, is open daily and continues to serve its loyal clients with all-day breakfasts, lunch and dinners, with an expanded menu featuring innovative dishes created by Executive Chef, I Komang Edi Saputra. The restaurant's relaxed ambiance is best experienced during dinner time, with its subtly-lit foyer and soothing interiors lined with attractive décor and original paintings by local artists currently working in Sanur. Location: Jalan Danau Tamblingan 82, Sanur.

Three Monkeys Sanur is the urban-style extension to its sister rice field-side café in Ubud. Located on Sanur's Jalan Danau Tamblingan, Three Monkeys presents an eclectic choice from its menu, and serves them up with cool jazz tunes. Plush sofas under a shady terrace and under the shades of white parasols and frangipani overlook the sidewalk and an upper level with air-conditioned indoor dining serves as an alternative option for those who want to escape the heat.


---
Read more