General
Here you can book your next sea cruise world wide.
Caribbean Cruise, South America Cruise, Pacific Cruise, Nile River Cruise, Mediteranean Cruise, Africa Cruise, Asia Cruise, Danube River Cruise, ….

Komodo
Komodo National Park – a UNESCO World Heritage site and quite simply a stunning place to visit for an unforgettable adventure.

Komodo National Park lies in the Wallacea Region of Indonesia, identified by WWF and Conservation International as a global conservation priority area, and is located in the center of the Indonesian archipelago, between the islands of Sumbawa and Flores.
Komodo National Park includes three major islands: Komodo, Rinca and Padar, as well as numerous smaller islands creating a total surface area (marine and land) of more than 1,800 km2. As well as being home to the Komodo Dragon, also known as the Komodo Monitor, or Ora (to Indonesians), the park provides refuge for many other notable terrestrial species. Moreover, the Park includes one of the richest marine environments.

This park is located in the Eastern part of Indonesia and had been protected from development by the remote location. Now, as tourism develops, it is the work of the park rangers and the government to control the development of the park over the coming years. PArt of the protection comes in the form of rigid rules and regulations that prevent much potential damage.

Flora & Fauna:
The number of terrestrial animal species found in the Park is not high, but the area is important from a conservation perspective as some species are endemic. Many of the mammals are Asiatic in origin. Several of the reptiles and birds are Australian in origin. These include the orange-footed scrubfowl, the lesser sulpher-crested cockatoo and the nosy friarbird.
The most famous of Komodo National Park's animals is the Komodo Dragon (Varanus komodoensis). It is the world's largest living lizard and can reach 3 metres or more in length and weigh over 70kg.
Other animals include the Timor deer, the main prey of the Komodo dragon, wild horses (kuda liar), water buffalo, wild boar (babi liar), long-tailed macaques, palm civets, the endemic Rinca rat (tikus besar Rinca), and fruit bats.
Also beware of the snakes inhabiting the island, including the cobra and Russel's pit viper, both of which are extremely dangerous.
As far as the marine fauna is concerned, Komodo National Park includes one of the world's richest marine environments. It consists of over 260 species of reef building coral, 70 different species of sponges, crustaceans, cartilaginous (incl. manta ray and sharks) and over a 1,000 different species of bony fishes (over 1,000 species), as well as marine reptiles (incl. sea turtles), and marine mammals (dolphins, whales, and dugongs).

Komodo dragons are the largest species of lizard on Earth. Due to an unusual intersection of weather and geology – they grew until this enormous size. Found nowhere else – the dragons can easily take down animals many times their size and they often feed on water buffalo and goats. They are so ravenous that they will eat the young of their species – forcing the young dragons to live in trees the first several years of their life! While they are dangerous and have attacked humans – with care and caution they can be seen on both Komodo and Rinca Islands.

Book here your Komod Island Tour

Komodo – 9 Islands Cruise – 4 days /3 nights
Explore the legendary Komodo Marine Parks and explore one of Indonesia's most wild and remote regions with this extensive 4-day ocean sailing tour.
Enjoy swimming and snorkelling in the tropical seas around uninhabited islands, and trek across the island of Rinca, which is famed for its population of Komodo dragons – the world's biggest lizard.


Komodo & Labuan Bajo Map & Hotels:


Hotels in Labuan Bajo:

[tp_hotel_selections_widget id=1467243 cat1="4stars" cat2="rating" cat3="tophotels" type=compact limit=6]

Read more
Canggu
Canggu
Canggu proper is a small village on the beach about 20 minutes north of Seminyak, half way to Tanah Lot. Canggu is widely used though to refer to a large coastal stretch of about 8 km, running north from the village of Berawa (just north of Seminyak) to the village of Cemagi (just south of Tanah Lot) taking in "Batu Bolong Beach", Echo Beach, ""Nelayan Beach"", Pererenan Beach, Selasih Beach, Seseh Beach and Mengening Beach along the way. It is still a largely rural area away from the beaches, but is being developed fast.
The coast is undeniably a paradise for eager surfers.
Nelayan Beach (Fisherman Beach) is where you can still get fresh fish, lobsters, prawns etc every early morning. Five minutes walk between Berawa Beach and Batu Bolong Beach.
The area is popular with many expatriates who choose to live here, and a large number of the villas owned by overseas nationals are located here. Much of the area features quietly undulating terrain with the rice paddies that typify much of south central Bali.
Beaches:
The beaches have dark grey or black sand, they do offer some popular and challenging surfing spots. Surfers from all over the world gather to enjoy surf sessions with friends. Canggu also adds another spiritual dimension to surfing as savoring an exquisite sunset from your perch on a surfboard is of common practice.  The 3 main beaches around are the Echo Beach, the Canggu Beach and the Brawa Beach.  The beaches have dark grey or black sand and are not particularly good for swimming, but do offer some renowned and challenging surfing spots.
For non-surfers, it's a nice sandy spot from where to watch the action.
Berawa Beach has a couple of surfer cafes by the pounding sea; the grey volcanic sand here slopes steeply into foaming water. Overlooking it all is the vast estate of fashionista Paul Ropp.
Nelayan Beach  has a collection of fishing boats and huts marks the very mellow stretch of sand at the Beach that fronts villa-land. Depending on the river levels, it can be an easy walk from here to Prancak and Batu Bolong Beaches.
Villas & Hotels:
Canggu is famous for many luxury villas.  Find here our villa portfolio
Rental of beautiful private and luxury vacation villas at Canggu Area is very popular, so you can find more than 200 villas for rent in that area. From 100 USD per night till 5000 USD per night for the most luxury dream beach villa. Most villas are fully staffed leaving you free to make the most of every moment of your holiday while the usual daily chores and demands are taken care of on your behalf. As well as providing chefs, service and housekeeping staff as a matter of course, most villas also include a dedicated villa manager who will be pleased to arrange for private cars and drivers, babysitters, spa therapists, yoga instructors and more.  Nearly every villa offers the perfect setting for a relaxing holiday, be it with friends or family, and many are also specially selected for their attractiveness and suitability as wedding and event venues. Find here our villas 
Transportation:
Taxis can be hard to find in this area and most travel tends to be by private car or motorcycle. Consider booking accommodation with a complimentary airport pickup as this is the easiest way to get to Canggu. A cab should cost around 80K from Kuta.
---
Canggu Hotels & Villas Map:

Zoom in and get the best price for your Canggu Hotels & Villas !
Read more
Lombok
Lombok is an island in the West Nusa Tenggara province of Indonesia. It is part of the chain of the Lesser Sunda Islands, with the Lombok Strait separating it from Bali to the west and the Alas Strait between it and Sumbawa to the east.
Located just east of Bali, Lombok in many ways lives up to or exceeds the promotional term, "an unspoiled Bali". With beautiful beaches, enchanting waterfalls, the large, looming volcano of Mount Rinjani combined with relatively few tourists, Lombok is indeed the paradisaical tropical island that many people still mistakenly imagine Bali to be now.
Lombok and Bali are separated by the Lombok Strait. It is also part of the bio-geographical boundary between the fauna of Indo-Malaysia and the distinctly different fauna of Australasia. The boundary is known as the Wallacean Line, after Alfred Russell Wallace who first remarked upon the striking difference between animals of Indo-Malaysia and those of Australasia and how abrupt the boundary was between the two biomes.
The Indonesian government is actively promoting both Lombok and neighboring Sumbawa as Indonesia's number two tourism destination after Bali. The President of Indonesia, Susilo Bambang Yudhoyono, the Ministry of Cultural and Tourism and the regional Governor have made public statements supporting the development of Lombok as a tourism destination and setting a goal of 1 million visitors annually by the year 2012 for the combined destination of Lombok and Sumbawa. This has seen infrastructure improvements to the island including road upgrades and the construction of a much delayed new International airport in the islands south. Despite this, Sumbawa retains a very rustic feel compared to Lombok.
Harbour of Labuhan Lombok
Lombok International Airport (Bandara Internasional Lombok) is south west of the small regional city of Praya in South central Lombok. It commenced operations on 1 October 2011. It replaced Selaparang airport near Ampenan. It is the only operational international airport within the province of West Nusa Tenggara (Nusa Tenggara Barat).
Selaparang Airport in Ampenan was closed for operations on the evening of 30 September 2011. It previously provided facilities for domestic services to Java, Bali, and Sumbawa and international services to Singapore to Kuala Lumpur via Surabaya and Jakarta. It was the island's original airport and is situated on Jalan Adi Sucipto on the north western outskirts of Mataram. The terminals and basic airport infrastructure remain intact but it is closed to all civil airline traffic.
Lembar Harbour seaport in the southwest has shipping facilities and a ferry for road vehicles and passenger services. In 2013, the gross tonnage is 4.3 million Gross Tonnages or increase by 72 percent from 2012 data means in Lombok and West Nusa Tenggara the economy progress significantly. Labuhan Lombok ferry port on the east coast provides a ferry for road vehicles and passenger services to Poto Tano on Sumbawa.
Climate
While tropical, hot and humid, Lombok is drier than neighbouring Bali, which makes it a particularly attractive option during the Oct – Apr rainy season (it rains on Lombok too, but rarely for more than an hour or two). The peak of the tourist season, though, is May till August.
People & Culture
Lombok has a rich and enduring indigenous culture that has withstood the pressures of modernity remarkably well. The strong remnant culture and history of the Sasak people is one of the many unique attractions of the island. The island has of a total population of 3,166,685 (as of 2010 Census), 85% are indigenous Sasak people whose origins are thought to have arisen from Java in the first millennium BC. Other residents include an estimated 10–15% Balinese, with the small remainder being Tionghoa-peranakan, Javanese, Sumbawanese and Arab Indonesians. The Sasak people are culturally and linguistically closely related to the Balinese, but unlike the Hindu Balinese, the majority practice local Muslim faith and traditions.
Since the Sasak population typically practice Islam, the landscape is punctuated with mosques and minarets. Islamic traditions and holidays influence the Island's daily activities.
The Christian minority religion is actively practised in Lombok by some of Chinese ethnicity and other Indonesians especially those from East Nusa Tenggara.
There is also a small Arab community in Lombok whose history dates back to early settlement by traders from Yemen. The small community is still evident mainly in Ampenan, the old port of Mataram and retain many of their own traditions.
Getting to Lombok from Bali
Flight from Bali (Ngurah Rai Airport) to Lombok International Airport is about 40 minutes and get on the taxi to the main tourism object (Senggigi) it will tak about 1 hour to get to Senggigi from the Airport. If you stay in Kuta (South Lombok) you can get on the taxi as well, it take about 30 minutes.
Ferry: Get on the ferry from Padang Bai (Northeast Bali) to Lembar Harbor (Lombok) for 4 to 5 hours, then get on the shuttle bus to your destination in Senggigi for 1 hour and Mataram about 30 minutes. Ferry are departing every hour from Padang Bai.
Fast Boat:  Some of fast boat operator serve a daily departure from Bali (Padang Bai or Benoa) to Lombok (Senggigi), the fast boat takes only 1 1/2 hours and they also provide a free hotel pick up in Bali for the following areas; Kuta, Legian, Seminyak, Nusa Dua, Jimbaran, Denpasar, Sanur and Ubud. You can book direct to the fast boat operator or some tourist information in Bali. For the cheapest fast boat you can find through online booking via some of the fast boat booking postal Gilibestdeal. The price that they offer start from $30 USD per person for one way,they will provide you an electronic boat ticket Fastboat services are provided for passenger movements between the nearby island of Bali and principally serve the Gili Islands, with some limited onward traffic to the Lombok mainland. Landfall is on one or more of the Gili islands dependent upon the operator and on the mainland is at either Teluk Nare/Teluk Kodek, or the township of Senggigi, both on the nearby west coast of the main island of Lombok. The services are controversial in nature in that the majority of the services use craft unsuitable to the conditions, with questionable safety standards and inadequate levels of crew training for operations in open water.
Pelni Shipping Line provides a national network of passenger ship services throughout the Indonesian archipelago. Pelni have offices in Ampenan.
Places:
Senggigi Beach Lombok is the main tourist strip of the Indonesian island of Lombok, stretched out along the several kilometers of the beachfront, just to the north of the capital Mataram. The site of a building frenzy in the late 1990s when Lombok was hyped to be the next Bali, the communal violence of 2000 and the 2002 Bali bombing dealt Senggigi a severe blow, with tourist numbers declining precipitously and many construction projects halted.  Senggigi Beach Lombok is the most developed area for tourists on Lombok. You can find a variety of restaurants, bars, discotheques, travel agents, photo processors, money changers, souvenir shop and a range of accommodations starting from budget guest house to 5 star hotels. Restaurants and small cafes line the colorful main beach road. Swimming off the beach is safe. Further north Mangsit has developed as an accommodation alternative to Senggigi with boutique style hotels positioned along the breathaking beaches this section coast.
Check here for the best hotels in Lombok

Gili Islands — three islands off the west coast of Lombok.   Every year the Gilis attract tens thousands of visitors from around the world for their pristine waters, great diving and snorkelling opportunities, and laid back charm.  The word Gili means "small island" so these islands have come to be known as "The Gili's Tramena" by travellers. The Gili's are Lombok's most popular islands and are consistently related as top Sea island destinations by travellers and travel publications.  There is a good selection of accommodations, restaurants and bars on all three islands, with the bigest range on Gili T. While no body comes to Gilis for shopping, each islands has many small shop selling essentials such as sunscreen, mosquito repellent, toileteries, cold drinks, snacks and more. In addition, there are cheap clothing and t-shirts, sarongs and local handicrafts stalls. The islands provide ample opportunities for visitors to swim, relax, sunbathe, ecplore, snorkel or scuba dive with many internationally accredited dive operators based in Lombok.  An impressive array of sea life can be seem arround the Gilis, including green and hawkbill turtles, morays, barracuda, reef sharks, occasionally leopard sharks and manta rays and much more. Visibility is very good and commonly in the 15-30 meters range and water temperatures average 23 C(73F) to 29C (84F). Currents around the islands can be quite strong and drift diving is the normal.

Gili Trawangan is the largest among the three Gilis, known as the party island with 340 hectares width. It is the only one rising significantly (30 m) above sea level. The population is about 1500. Trawangan originates from the Indonesian word Terowongan (Tunnel) because of a cave tunnel built there during Japanese occupation. Trawangan is the most developed and geared towards tourism. It concentrates settlement, recreation, accommodation and diving business. It is the smallest island in the world with an Irish pub. It is  previously administered under North Lombok regency. The transportation are bicycles and cidomo, a small horse-drawn carriage. To travel to and from each of the Gilis, the locals commonly use motorised boats and speedboats. The first inhabitants of Gili Trawangan were fishermen and farmers fromSulawesi. Gili Trawangan was covered in forest and deer lived on the island.The economy is based on tourism.

Gili Nanggu: The beauty private island off the west coast, close from Lembar ferry harbour. a nature conservation and protection of sea turtles  Gili Nanggu has a stunning underwater scenery.

Kuta Beach Lombok attract visitors for its beautiful virgin beaches and surfing spots. Surfers from all over the world find Kuta Lombok as a surfer paradise. South coast of Lombok is famous for the high waves and Kuta Lombok is a good base for the surfers. Many visitors come back year after year to surf the famous Kuta waves. Whether you are an experienced surfer or a beginner you will find the surf spot for you. Surf boards & boogie boards are available to rent or bring your own. You will need transport to the waves from Kuta, most guests choose to rent motorcycles which come with a special surf rack attached.

Mt Rinjani, Lombok's famous volcano, soars 3726 meter above sea level and is the second highest volcano in Indonesia, attracting thousands of trekkers and climbers annually. The huge crater near the top contains a beautiful lake called "Danau Segara Anak" and a smaller volcanic cone called "Gunung Baru Jari", which was formed a couple of hundred years ago. There are number of caves and waterfall and hot springs located around the volcano. The Mount Rinjani National Park extends over an area of 41,330 ha. with the surrounding protected forest covering 51.500ha. Community base activities are conducted in conjunction with the Rinjani Trek Center in Senaru. Mount Rinjani and Lake Segara Anak located in the north of Lombok 85 kilometers from Mataram, Mount Rinjani is the second highest peak in Indonesia standing at majestic 3726m.
For the people of Lombok Sasak and Balinese alike, treat this mountain as a sacred place, they consider the Gods live at the summit of the mountain.

Bangsal is at the crossroads where the coastal road meets the Pusuk Road, with Jalan Raya (the main road) continuing north all the way around the island to the east coast. The road to the west only runs about 1 km to Bangsal Harbour, which is the main point of departure for public boats out to the Gili islands.  Bangsal is a pretty village with a large Balinese Hindu population, surrounded by rice fields, temples, and close the ocean and the mountains. There are a few small home-stays and Bangsal makes a good base for exploring the north.

The Sendang Gile waterfalls at Senaru are amongst Lombok's most spectacular, even after climbing the 200 vertical steps down to stand below them. The water cascades in a steep vertical drop down the hillside into a rocky stream below.
History
The Dutch first visited Lombok in 1674 and settled the eastern most part of the island, leaving the western half to be ruled by a Hindu dynasty from Bali. The Sasaks chafed under Balinese rule, and a revolt in 1891 ended in 1894 with the annexation of the entire island to the Netherlands East Indies.
Lombok Facts:
Location : South East Asia
Coordinates : 8.565°S 116.351°E
Archipelago Lesser Sunda Islands
Area : 4,725 km²
Highest point : Rinjani (3,726 m)
Country : Indonesia
Province : West Nusa Tenggara
Largest city : Mataram
Demographics
Population : 2,950,105 (as of 2005)
Density : 792⁄km² /km² (Expression error: Unrecognised word "km" /sq mi)
Ethnic groups : Sasak, Balinese
---
Lombok Hotel Map:

[tp_hotelmap_widget coordinates="-8.494654, 116.044166" width=600 height=500]

Zoom in  and get the best rates for Lombok Hotels !

Read more
Seminyak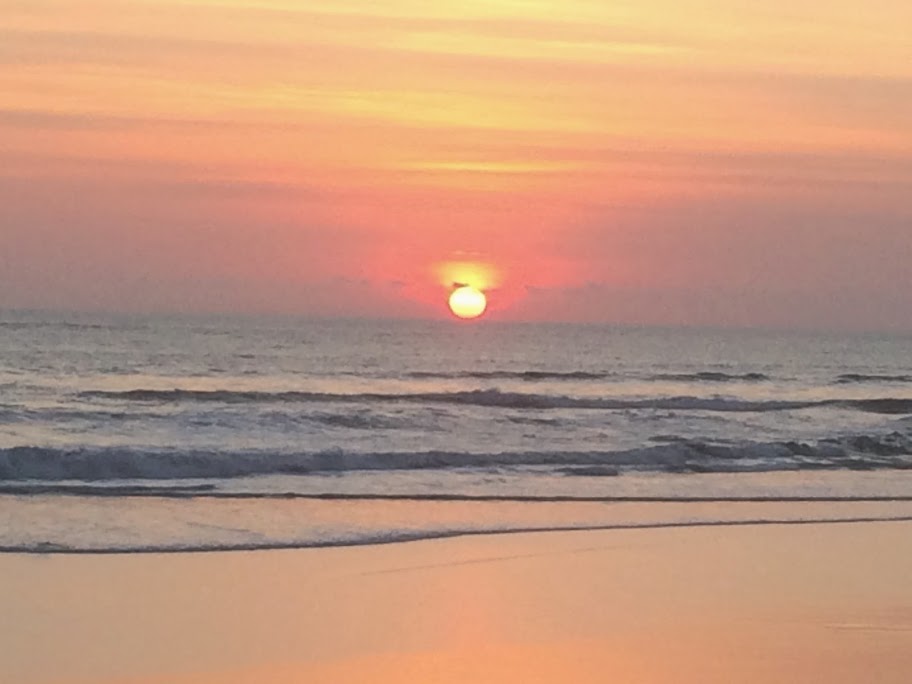 Seminyak
Seminyak's Petitenget Beach offers a more secluded ambiance compared to its sister strands of Kuta and Legian to the south. However, after sunset a livelier nightlife scene takes over.
Chic hotels such as the W Retreat & Spa, or premier dining and entertainment venues such as Ku De Ta and the Potato Head Beach Club, have all garnered an international following.
Seminyak Beach offers a more refined resort feel compared to its neighbouring areas of Kuta and Legian, home to among the island's best dining, nightlife and entertainment venues. Seminyak outshines the two as the island's most prized beach resort area. Undercurrents are usually strong, and surfing is mostly for the advanced. Other activities to be had along the coast include horseback riding that starts from the Umalas stables in Canggu in the north, down to Seminyak's Petitenget coast and Legian's Blue Ocean Beach area. Seminyak sunsets are not to be missed, best enjoyed while chilling out with friends around the glitzy poolsides of the WooBar at the W Resort Bali, or down on the beachfront lawns of Ku De Ta or the Potato Head Beach Club.
It is hard to imagine that only ten years ago this was a distinctly separate village, and something of a backwater. Development has occurred at an astonishing pace, and as well as absorbing all green space which formerly separated Seminyak from Legian, it is now almost impossible to determine where Seminyak ends and the nearby villages of Petitenget, Umalas and Kerobokan begin
Beaches:
Seminyak Beach offers a more refined resort feel compared to its neighbouring areas of Kuta and Legian, home to among the island's best dining, nightlife and entertainment venues. Seminyak outshines the two as the island's most prized beach resort area. Undercurrents are usually strong, and surfing is mostly for the advanced.
Echo Beach is one of Bali's most recently christened surf spots. The nickname overshadows its local name 'Pantai Batu Mejan', after a significant Balinese Hindu sea temple on site.
Petitenget Beach is a continuous expanse of grey sand stretching in both directions as far as the eye can see. To the south it becomes Legian Beach and then Kuta Beach, but is noticeably quieter than both. The sunsets here are famous, and opportunites abound to mix with the glitterati who frequent the high end beach front estalilshments such as Ku De Ta. Easy access points to the beach are at the end of Jalan Dhyana Pura, and from the large public car park (Rp 2,000) between Petitenget Temple and La Luciola restaurant.
Get Around at Seminyak:
The streets of Seminyak are increasingly jammed, with Jalan Laksmana being a particular black-spot. Your best options here are to walk or rent a motorcycle/bicycle. Taxis are everywhere available for a small price. Be sure the taxi driver put on the taximeter.
Nightlife:
Most of the lounges and clubs in Seminyak offer elegant interior designs and outdoor landscapes with green beachfront lawns and pools lined with shaded daybeds and facing the surf. Some also feature poolside bars, serving an extensive array of fine quality cocktails, martinis, wines, champagnes and vodkas. From the long-standing Ku De Ta, the elegant Potato Head Beach Club and WooBar at the W Retreat along the famous Jalan Petitenget, to the slightly far end of Batubelig Beach where the refined Mozaic Beach Club resides, Seminyak offers night owls among the island's greatest haunts and watering holes.
Please note:
Current underflows can be strong, always swim between the red and yellow flags, don't swim too far out! Do not leave your belongings unattended on the beach.
Do not do drugs! It can carry the death penalty, and there are enough foreigners residing in Bali courtesy of the Govt. prison service!
Do not  touch people's heads – it is very offensive to Hindus.
Do not forget to look and listen while you cross the road. Cars may stop, motorbikes may not!
Do not walk in front of people praying.
At cremations, do not get in the way of the attendees – however important that photographic opportunity is!
Women are not allowed to enter temples during menstruation.
In a temple: Always wear a sarong and sash.
Driving: In Bali always expects the unexpected; always keep your eyes open and your mind on driving.
Money changers:
Please be very careful when changing your money. Always check the rate of exchange and commission (if any) the money changer is taking. Most importantly, always count your money before you leave the premises and if you can, bring your own calculator, as the ones used by some places can be "a little inaccurate".
Seminyak Map & Hotels:
[tp_hotelmap_widget coordinates="-8.691166, 115.157061" width=100% height=500 zoom=12 subid=""]
Read more
Nusa Dua
Nusa Dua
The Nusa Dua tourist resort is part of the Bukit Peninsula in southern Bali. Some of the most beautiful and luxurious hotels are found here.
The resort is known for its clean white beaches and clear waters. The surf is gentle along the northern side of the peninsula, bigger along the south. The most convenient form of transportation to and from Nusa Dua is by taxi.

Nusa Dua, was designed to be an 'all-inclusive' type of tourist destination. The pristine Bali Tourism Development Centre's (BTDC's) complex of world-class hotels, an up-market shopping complex with well-maintained facilities, a luxurious 18-hole golf course, white-golden sandy beaches and much more.
The reef is around 500 mtrs offshore so you have at low tide a bit shallow water.

Tanjung Benoa is a 5-kilometer strip of perfect golden sand and beach fun. Waterskis, water jets, banana rides, wakeboards – no one seems to be napping with a book at this hangout. Local guides can take you to swim with sea turtles or teach you how to dive. If the underwater kingdom is not your bunch of coconuts, take a picturesque and never-ending beachside stroll to the furthest corner of Nusa Dua.  Tanjung Benoa has become a the Mecca of marine sports in Bali, where about 10 water sport companies operate from the beach. Popular activities include parasailing, banana boat rides and jet skiing. Most of the operators offer change room facilities with lockers, towel rentals and restaurants. Booking is not essential however it's a good idea to check the time of the tides to make the most of your day out on the water.

Nusa Dua Map & Hotels:
[tp_hotelmap_widget coordinates="-8.79941, 115.22676" width=100% height=500 zoom=12 subid=""]

[xyz-ihs snippet="VIATOR300"]

Read more
Sanur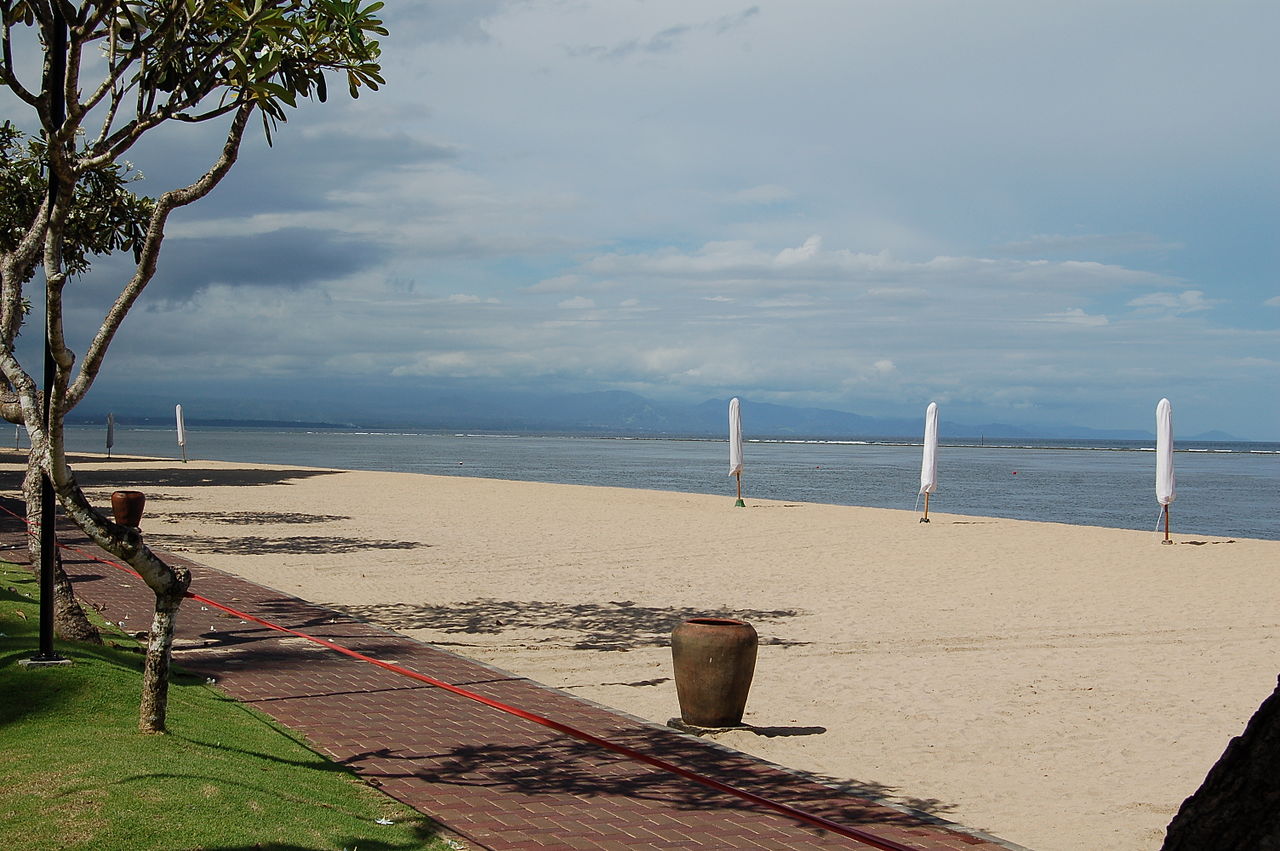 Sanur
Sanur is a coastal stretch of beach of Denpasar city of southeast Bali, about 30 minutes drive from Ngurah Rai International Airport, which has grown into a little town in its own right. A 5.1 kilometers of the Sanur's coastline from Matahari Terbit Beach to Mertasari Beach has been ready reclaimed in 2008.
Among Bali's first hotels and beachfront retreats, together with an eclectic mix of restaurants, shops and bars and an assortment of innovative and modern entertainment venues share the Sanur Beach coastline. Known for its laidback atmosphere, Sanur Beach maintains its wealth in arts and culture, making it an ideal destination to enjoy the best of both eras, classic and contemporary.
As with many of Bali's beaches, Sanur has lost a significant amount of its sand and groins have been built to try to retain what remains. Comfortable salas sit on many of these making for a comfortable spot to while away a hot afternoon. Midway along the beach there is even one that can only be swum to (or waded to at low ride).
Even though Sanur is not as hectic as trendy Seminyak, it is still heavily touristed and those seeking an untouristed Bali beach experience won't find it here. This is one of the island's original "tourist areas" and today is especially popular with families with kids. Occasionally referred to as "Snore" the pace here is far slower and sedentary than Kuta/Seminyak and by midnight just about everywhere is shutting up shop.
The northern part of Sanur beach was used as the landing site for the Dutch invasion troops during the Dutch intervention in Bali (1906). During World War II, Sanur was again the entry point through which the Japanese forces landed to occupy the island of Bali.
Today Sanur contains a number of hotel resorts such as the Fairmont Sanur Beach Bali and Bali Hyatt, The Zen Villas, etc.
Traditional fishing boats can be seen on the beach of Sanur offering a scenic view of the island Nusa Penida.
Read more
Kuta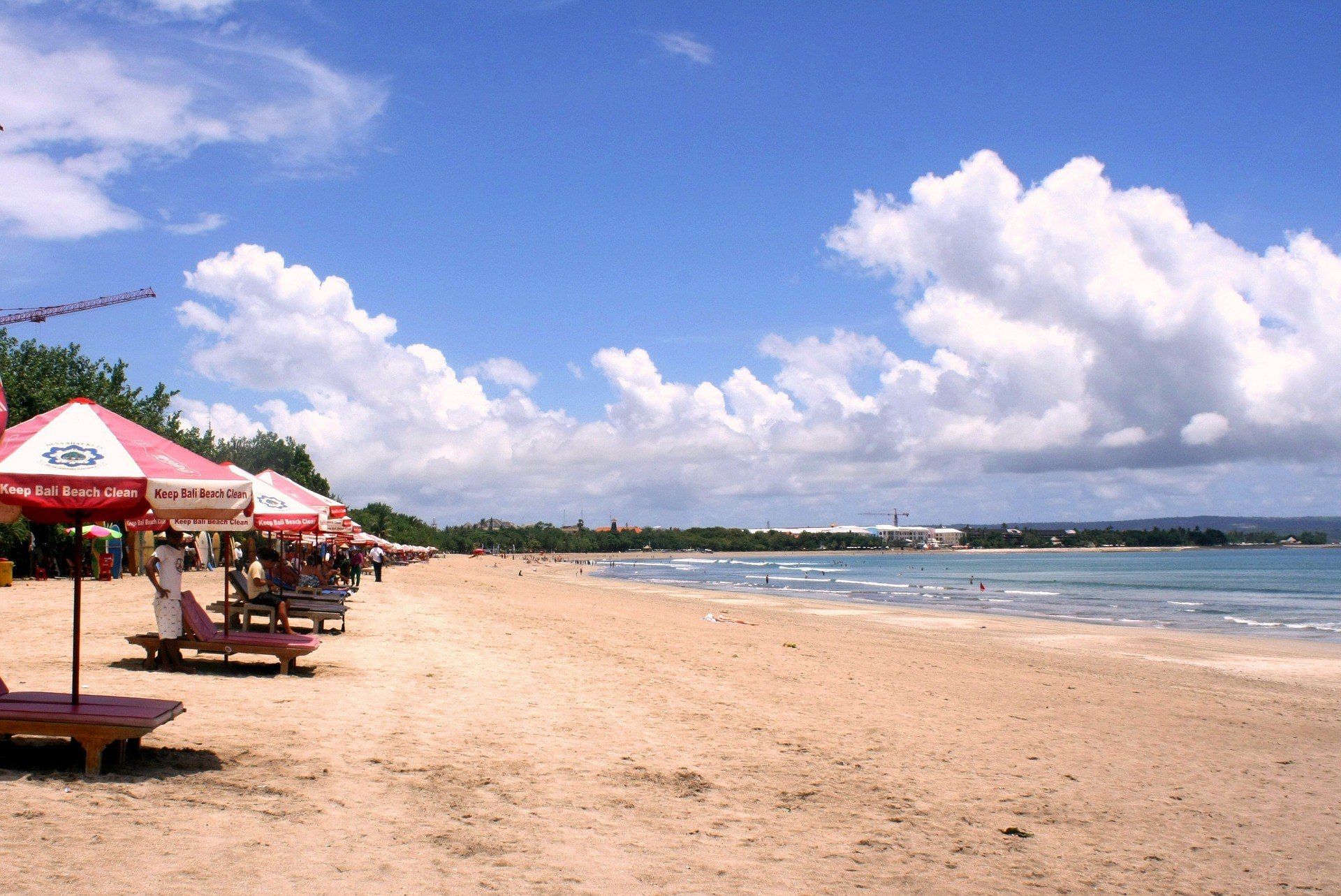 Kuta Bali
Once a lonely village on the road from Denpasar toward the Bukit Peninsula, Kuta is now a thriving tourist resort, popular mainly among the young. It is a beach for surfing although currents make it less suitable for swimming. Coast guards, however, are on constant duty during the day. Kuta faces toward the west offering beautiful sunsets. The beach sweeps in a golden arc from the airport in the south all the way along the coast to the north for tens of kilometres.
Accommodation ranges from international hotels to low budget home stays. Find here our hotel finder
The village abounds with restaurants, shops, discotheques and other tourist facilities. It is easier to find regular performances of Balinese music and dance in Kuta, staged specially for tourists, than anywhere else in Bali. Some performances are staged nightly.
The village is ideal for meeting and mixing with other people, locals as well as visitors from abroad.

The five km long sandy stretch of Kuta is arguably the best beach front in Bali. The beach is safe, partially clean, well-maintained, although the beach vendors remain annoying pushing massages, hair braiding, cigarettes and surf boards. The long wide stretch of sand is often full of sunbathers and although most of the serious surfers have moved on to newer pastures, there are still plenty of surf dudes around at most times of the year, and especially so during peak season.
As you move north along the beach to first Legian and then Seminyak and Petitenget it becomes progressively quieter and less frenetic.
Two of the most popular laneways are called Poppies I and Poppies II where bars and restaurants are packed in among shops and guesthouses / losmen (cheap hotels). It is easy to get lost in this area and just as easy to pop back into civilisation again as most roads lead either to Jalan Legian, Jalan Pantai Kuta or one of the Poppies lanes. The main backpacker area is on a lane that runs in a northerly direction off Poppies II and is confusingly referred to as Jalan Benesari even though this is also the name of the road further north that travels east to west and connects the beach to Jalan Legian.
The area of south Kuta closest to the airport is more correctly known as Tuban, but this name is rarely used.
Due to the ever increasing popularity of Bali, Kuta is continually developing, and is not short of unsightly, poorly planned buildings. It can come across at times to be chaotic, overcrowded and congested. However, amongst all the mayhem this place somehow works, and hundreds of thousands of visitors enjoy their time in Kuta every year.

Nightlife:

Everybody looking for some action and fun in the evening goes to "Kuta" which nowadays means the area extending about 4 miles or 7 kilometers North from the original village of Kuta and includes now Legian, Seminyak and even Basangkasa. Here are most of the better entertainment places offering everything single male or female visitors as well as couples might be looking for.

There are several places such as Sky Garden Discotheque on Jalan Raya Legian. There are 5 different dancefloors on 4 floors and one rooftop floor "Sky Garden". The huge (air-conditioned) main dance floor is often crowded, guests are a mix of locals and younger foreign visitors.

Close to the center of Kuta you find the BOUNTY SHIP with a noisy, air-conditioned disco in a big rebuild sail ship.  PADDY'S not far from the original PADDY'S is a popular Disco where you can get cheap drinks and . Much more "IN" nowadays is the newer M-BAR-GO which features really good music and a better crowd than most other places.  When most places close around 2.00 or 3.00 in the morning, night owls of all kinds continue drinking at nearby MAMA'S until sunrise.

For a somewhat more civilized evening out, you can have dinner and a couple of drinks at the bar at either TJ's or KORI in Kuta, at the open street side bar at NERO Bali right opposite AROMAS Restaurant in Kuta, at the re-built N-R-G in Kuta, at MADE'S WARUNG in Basangkasa.

You'll find a large and quite popular HARD ROCK CAFE right at the beginning of Kuta's beach road with live music from 11 p.m. to 2 a.m. Expect to find many singles of all kinds here looking for company. If you think this is too noisy, too crowded, or the air-conditioning too cold for you, try the CENTER STAGE at the HARD ROCK RESORT located in the back of the CAFE. As the name implies, the band performs on a raised stage in the middle of the huge round lobby bar until 11:00 p.m. Both HARD ROCK outlets are expensive by Bali standards.

Seminyak:

One of the most "in" and upper class venues in Bali is KU DE TA right on the beach adjacent to the Oberoi hotel. This is the place to see and be seen, and from late afternoon there is a DJ providing rather noisy entertainment for Bali's beautiful people. This is a great place to watch Bali's famous sunsets, but expect to pay for a cocktail around US$10 and more.
Cool hang outs are also the trendy HU'U Bar & Lounge near the Petitenget temple, LA LUCIOLA and THE LIVING ROOM.   Find here the Seminyak travel information

Getting arround:

Kuta stretches along the beach front all the way from the airport to Legian, and small lanes lead from the beaches into the densely populated accommodation zone. To avoid traffic-related frustrations, the best option is a combination of walking in small lanes and using metered taxis or a rented motorbike for longer excursions. Traffic jams are a constant hassle here and especially so when it is raining. It is often best to park your car before you reach downtown Kuta, and walk in. Metered taxis (taksi berargo) are ubiquitous on the streets of Kuta and are a relatively cheap and reliable way to get around, especially at night. Avoid any taxi where the driver refuses to put the meter on.

 Kuta Bali Hotel Map:

[tp_hotelmap_widget coordinates="-8.723796, 115.175228 " width=100% height=500 zoom=12]

Recommended Kuta Hotels:

[tp_hotel_widget hotel_id=1486826 responsive=true]
[tp_hotel_widget hotel_id=142702 responsive=true]
[tp_hotel_widget hotel_id=357705 responsive=true]

Read more
Bali
Bali, Indonesia
Bali, the famed "Island of the Gods", with its varied landscape of hills and mountains, rugged coastlines and sandy beaches, lush rice terraces and barren volcanic hillsides all providing a picturesque backdrop to its colourful, deeply spiritual and unique culture, stakes a serious claim to be paradise on earth. With world-class surfing and diving, a large number of cultural, historical and archaeological attractions, and an enormous range of accommodations, this is one of the world's most popular island destinations and one which consistently wins travel awards. Bali has something to offer a very broad market of visitors from young back-packers right through to the super-rich.
Travel & Leisure Magazine has awarded Bali the World's Best Island in 2009, while the Lonely Planet's Best of Travel 2010 ranked Bali second place among the world's Top Regions.
The rapid growth of development in tourism has had a big impact and influences to Bali tradition and lifestyle. Interestingly, Balinese culture is still as what it was, growing along with the of globalization. It is the Balinese civilization what makes the island different from other destination.
The tourism industry is primarily focused in the south, while significant in the other parts of the island as well. The main tourist locations are the town of Kuta (with its beach), and its outer suburbs of Legian and Seminyak (which were once independent townships), the east coast town of Sanur (once the only tourist hub), in the center of the island Ubud, to the south of the Ngurah Rai International Airport, Jimbaran, and the newer development of Nusa Dua and Pecatu.
Bali Geography
The island of Bali lies 3.2 km (2 mi) east of Java, and is approximately 8 degrees south of the equator. Bali and Java are separated by the Bali Strait. East to west, the island is approximately 153 km (95 mi) wide and spans approximately 112 km (69 mi) north to south; administratively it covers 5,780 km2, or 5,577 km2 without Nusa Penida District,[24] its population density is roughly 750 people/km2.
Bali's central mountains include several peaks over 3,000 metres in elevation. The highest is Mount Agung (3,031 m), known as the "mother mountain" which is an active volcano. Mountains range from centre to the eastern side, with Mount Agung the easternmost peak. Bali's volcanic nature has contributed to its exceptional fertility and its tall mountain ranges provide the high rainfall that supports the highly productive agriculture sector. South of the mountains is a broad, steadily descending area where most of Bali's large rice crop is grown. The northern side of the mountains slopes more steeply to the sea and is the main coffee producing area of the island, along with rice, vegetables and cattle. The longest river, Ayung River, flows approximately 75 km.

Bali Climate
Being just 8 degrees south of the equator, Bali has a fairly even climate year round.  With sunshine shining throughout the year, Bali has a tropical monsoon climate, with pleasant day temperatures between 20 to 33 degrees Celsius or 68 to 93 degrees Fahrenheit. Rainy season starts from October to March, when the West monsoon brings heavy showers and high humidity. June to September is considered the driest season, with low humidity and it can be fairly cold in the evenings, the best time for any outdoor activities.
Religion
Unlike most of Muslim-majority Indonesia, about 83.5% of Bali's population adheres to Balinese Hinduism, formed as a combination of existing local beliefs and Hindu influences from mainland Southeast Asia and South Asia. Minority religions include Islam (13.3%), Christianity (1.7%), and Buddhism (0.5%). These figures do not include immigrants from other parts of Indonesia.
Balinese Hinduism is an amalgam in which gods and demigods are worshipped together with Buddhist heroes, the spirits of ancestors, indigenous agricultural deities and sacred places. Religion as it is practised in Bali is a composite belief system that embraces not only theology, philosophy, and mythology, but ancestor worship, animism and magic. It pervades nearly every aspect of traditional life. Caste is observed, though less strictly than in India. With an estimated 20,000 puras (temples) and shrines, Bali is known as the "Island of a Thousand Puras", or "Island of the Gods". This is refer to Mahabarata story that behind Bali became island of god or "pulau dewata" in Indonesian language.
Bali Culture
Life in Bali is very communal under the organization of villages. Temple ceremonies, marriage, cremation, farming and even the creative art festivals are decided by the local community institution called "Banjar". The responsibilities in the day-to-day life are normally administered by both the Banjar and the government. The local government mostly responsible for schools, health clinics, hospitals and roads, and Banjar is responsible for all other aspects of life. There is another association exists in the banjar named "Subak" that concerns to the production of rice and organizes the complex irrigation system. Every family who owns a rice field must be a member of their local Subak, which then ensures that every member gets his fair distribution of water. A banjar consists of an average of 50 to 150 family members, owning a meeting venue called the Bale Banjar, which is used for regular gatherings and a center for local gamelan orchestras and drama groups.
Bali is renowned for its diverse and sophisticated art forms, such as painting, sculpture, woodcarving, handcrafts, and performing arts. Balinese cuisine is also distinctive. Balinese percussion orchestra music, known as gamelan, is highly developed and varied. Balinese performing arts often portray stories from Hindu epics such as the Ramayana but with heavy Balinese influence. Famous Balinese dances include pendet, legong, baris, topeng, barong, gong keybar, and kecak (the monkey dance). Bali boasts one of the most diverse and innovative performing arts cultures in the world, with paid performances at thousands of temple festivals, private ceremonies, or public shows.
The Hindu New Year, Nyepi, is celebrated in the spring by a day of silence. On this day everyone stays at home and tourists are encouraged to remain in their hotels. On the day before New Year, large and colourful sculptures of ogoh-ogoh monsters are paraded and finally burned in the evening to drive away evil spirits. Other festivals throughout the year are specified by the Balinese pawukon calendrical system.
Temples
Bali is known as an island of thousands temples. In every village in Bali, there are several temples and at least one small temple in each home of Balinese which reach to a total of 10.000.
Balinese word for temple is 'pura' which means 'space surrounded by a wall'. Although many temples are quiet and uninhabited, they are transformed into colorful, active and decorated places of worship when there is a festival. While offerings are made, performances of traditional dances and gamelan, cockfighting and gambling enliven the atmosphere.
All temples derive their direction from the mountains and the sea. The direction toward the mountains, Kaja, is the most significant direction. The direction toward the sea is Kelod. The direction toward the sunrise, Kangin, is found in most secondary shrines.
Bali History
The first Hindus arrived in Bali as early as 100 BC, but the unique culture which is so apparent to any current day visitor to Bali hails largely from neighbouring Java, with some influence from Bali's distant animist past. The Javanese Majapahit Empire's rule over Bali became complete in the 14th century when Gajah Mada, Prime Minister of the Javanese king, defeated the Balinese king at Bedulu.
The rule of the Majapahit Empire resulted in the initial influx of Javanese culture, most of all in architecture, dance, painting, sculpture and the wayang puppet theatre. All of this is still very apparent today. The very few Balinese who did not adopt this Javanese Hindu culture are known today as the Bali Aga ("original Balinese") and still live in the isolated villages of Tenganan near Candidasa and Trunyan on the remote eastern shore of Lake Batur at Kintamani.
With the rise of Islam in the Indonesian archipelago, the Majapahit Empire in Java fell and Bali became independent near the turn of the 16th century. The Javanese aristocracy found refuge in Bali, bringing an even stronger influx of Hindu arts, literature and religion.
Divided among a number of ruling rajas, occasionally battling off invaders from now Islamic Java to the west and making forays to conquer Lombok to the east, the north of the island was finally captured by the Dutch colonialists in a series of brutal wars from 1846 to 1849. Southern Bali was not conquered until 1906, and eastern Bali did not surrender until 1908. In both 1906 and 1908, many Balinese chose death over disgrace and fought en-masse until the bitter end, often walking straight into Dutch cannons and gunfire. This manner of suicidal fighting to the death is known as puputan. Victory was bittersweet, as the images of the puputan highly tarnished the Dutch in the international community. Perhaps to make up for this, the Dutch did not make the Balinese enter into a forced cultivation system, as had happened in Java, and instead tried to promote Balinese culture through their policy of Baliseering or the "Balinisation of Bali".
Bali became part of the newly independent Republic of Indonesia in 1945. In 1965, after the failed coup d'etat which was allegedly backed by the Communist Party (PKI), state-instigated, anti-communist violence spread across Indonesia. In Bali, it has been said that the rivers ran red with the reprisal killings of suspected communists—most estimates of the death toll say 80,000, or about five percent of the population of Bali at the time.
The current chapter in Bali's history began in the seventies when intrepid hippies and surfers discovered Bali's beaches and waves, and tourism soon became the biggest income earner. Despite the shocks of the terrorist attacks in 2002 and 2005, the magical island continues to draw crowds, and Bali's culture remains as spectacular as ever.
Bali Travel Facts:
Please see our Bali Infos here
Accommodations:
Please find our Bali Hotel List here.
Why not stay in a private luxury Bali Villa ?
Find here our Bali Villa List
Tours and Sightseeing in Bali:
Find here our private Tours for Bali
Read more
Indonesia
Indonesia straddles the Equator between the Indian Ocean and the Pacific Ocean. While it has land borders with Malaysia to the north as well as East Timor and Papua New Guinea to the east, it also neighbors Australia to the south, and Palau, the Philippines, Vietnam, Singapore, and Thailand to the north, India to the northwest.
With 18,110 islands, 6,000 of them inhabited, Indonesia is the largest archipelago in the world. About 240 million people live in this fourth most populous country in the world — after China, India and the USA — and by far the largest country in Southeast Asia. Indonesia also has the largest Muslim population in the world. Indonesia's population is on course to overtake the US and become the third largest before 2044. In the decade that ended in 2010, population growth remained high at 1.49% each year but there is substantial Muslim opposition to boosting family planning.
Indonesia is the fourth largest country in the world is home to more than 195 million people. Mainly Muslims — with substantial Christian, Hindu and Buddhist minorities. Indigenous tribes still exist in Borneo to Irian Jaya in Eastern Indonesia. The presence of their pagan ancestry can still be seen, heard and felt by those who dare to breach the tourist frontiers.
The largest Indonesian islands are Sumatra, Java, Kalimantan (Indonesian Borneo), Sulawesi, and the Indonesian part of New Guinea (known as Papua or Irian Jaya).
Indonesia markets itself as Wonderful Indonesia, and the slogan is quite true, although not necessarily always in good ways. Indonesia's tropical forests are the second-largest in the world after Brazil, and are being logged and cut down at the same alarming speed. While the rich shop and party in Jakarta and Bali. After decades of economic mismanagement 50.6% of the population still earns less than USD2/day according to figures compiled by the World bank in 2009. This had come down by 6% in the 2 years between 2007 and 2009.
Infrastructure in much of the country remains rudimentary, and travellers off the beaten track will need some patience and flexibility.
According to the "Energy Access" Working Group Global Network on Energy for Sustainable Development, in 2001, 53.4% of the Indonesian population had access to electricity and they consumed 345kWh for each person in a year. In the same year the residents of nearby Singapore had 100% access and they consumed 6,641 kWh. A very large percentage of the Indonesian population remain reliant upon wood for a cooking fuel. The central government has in recent years instituted a program of LPG gas access to use as a replacement for the burning of bio-mass sources for cooking.
A wonderfully fullfilling destination, Indonesia is a land of contrasts, a land where the spiritual manifests itself through magnificent temples and artwork. Mother Nature is not to be outdone with dramatic landscapes, active volcanoes and picture-perfect postcards. Indonesia's fauna is exotic to say the very least, with huge lizards, orangutans and various tropical fish.
Nature:
Both below and above water, Indonesia's biodiversity is unrivalled. Tigers, elephants, rhinos, orangutans, cloud leopards, tapirs and a multitude of rare, threatened and amazing wildlife are found in the nation's forests and swamps. New species are constantly being discovered.
On the eastern part of the archipelago, separate from the Asian landmass, the islands of Sulawesi, Nusa Tenggara and Maluku have seen the evolution of species that are markedly different from western Indonesia.
Further to the east, Papua (originally part of the Australian landmass) exhibits a range of unique habitats, including more than 700 bird species (including migrants).
Indonesia's warm seas are home to marine turtles, whales, dugongs and the world's largest diversity of tropical marine species.
Culture:
Indonesia has about 300 ethnic groups, each with cultural identities developed over centuries, and influenced by Indian, Arabic, Chinese, and European sources. Traditional Javanese and Balinese dances, for example, contain aspects of Hindu culture and mythology, as do wayang kulit (shadow puppet) performances. Textiles such as batik, ikat, ulos and songket are created across Indonesia in styles that vary by region. The Indonesian film industry's popularity peaked in the 1980s and dominated cinemas in Indonesia, although it declined significantly in the early 1990s. Between 2000 and 2005, the number of Indonesian films released each year has steadily increased.
History:
Indonesia has a rich and fascinating history. The majority of Indonesia's modern population is made up of Austronesian people, who originally migrated to South East Asia from Taiwan. They arrived in Indonesia around 2,000 BC and quickly spread throughout the archipelago, pushing the indigenous Melanesian people to the far eastern regions.
Trade contracts eventually brought outside cultural and religious influences to Indonesia from India, China, and mainland Southeast Asia. Starting from the 7th century, the powerful Srivijaya kingdom flourished as a result of the Hindu and Buddhist influences that were imported into Indonesia along with traded goods. Srivijaya was one of the first Indian-ized empires and grew up around the coast of Sumatra, serving as the hub of a trading network that reached to many parts of the archipelago.
Indonesia Travel Facts:
Visas
Two months' entry visa free for tourists from major markets. All visitors must have passports valid for at least six months and proof of onward passage.
Airport Taxes
Airport tax levied on passengers for international travel is Rp.21,000. for travel within Indonesia regional variations occur. Expect to pay an average of about Rp.8,000.
Health
International health certificates for smallpox and cholera are not required, except from travelers arriving from infected areas. Bottled water is provided everywhere, even in the smallest villages. It is never advisable to drink tap water anywhere in Indonesia. Be sure to travel with Immodium AD since it is not easy to find there and you don't want to discover that when its too late.
Customs
Indonesian customs allows on entry a maximum of two liters of alcoholic beverages, 200 cigarettes or 50 cigars or 100 grams of tobacco and a reasonable amount of perfume per adult. Cars, photographic equipment, typewriters and tape recorders must be declared to Customs upon entry and must be re-exported. Prohibited from entry are TV sets, radios, narcotics, arms and ammunition, printed matter in Chinese characters and Chinese medicines. Advance approval has to be acquired for carrying transceivers and all movie films and video cassettes must be censored by the Film Censor Board. Fresh fruit, plants and animals must have quarantine permits. There is no restriction on import or export of foreign currencies. However, the export or import of Indonesian currency exceeding Rp.50,000 is prohibited.
Currency & Money Exchange
The Rupiah is the currency used in Indonesia in notes 100, 500, 1,000, 5,000, 10,000, 20,000, 50,000. The most commonly used note is 50,000 Rupiah (about $5 US). There are many places available to exchange your dollars. You'll get a better exchange rate for crisp, clean US $100 bills. Old or dirty bills may not be accepted. As with any foreign country, it is advisable to understand the exchange rate before you go to exchange your money so you should have a good idea of how many Rupiah to expect for your US dollars.
Credit Cards
Major credit cards are acceptable in most hotels along with American dollar travelers' checks.
Banking
Normal banking hours are from 8:00 am to 2:30 pm from Monday to Friday. Some bank branches in hotels, however, keep longer hours. Jakarta has several international banks but money can also be changed at hotel cashiers, and authorized money changers. Daily exchange rates are published in newspapers. The US dollar is the most readily accepted currency. Most major tourist destination areas have foreign exchange facilities, but for travel to remote areas it is advisable to change money and travelers cheques in advance.
Tipping
Major hotels usually add a 10% service charge to bills. Where it is not included a tip of between 5% to 10% of the bill would be appropriate if the service is satisfactory. Airport porters expect Rp.2,000 for a small bag and Rp.3,000 for bags weighing more than 20 kg. Tipping taxi and hire-car drivers is not mandatory, but if service has been satisfactory a basic Rp.1,000 tip is sufficient for a taxi driver, Hire-car drivers would normally expect a larger tip.
Security
Keep your valuables in the hotel safe deposit box or a similar safe place and your passport close to your body.
Language:
The official language of Indonesia is 'Bahasa Indonesia.' There are also several hundred local languages, such as Javanese or Papuan languages. Most Indonesians speak their ethnic language as their mother tongue as well as the official language of Bahasa Indonesia.
Etiquette
Being aware of local customs and taboos is very important when traveling in any foreign land. In Indonesia you will always be ensured of having a pleasant time if you act with decorum and dress appropriately. On greeting someone it is customary for both men and women to shake hands. This should only be done with the right hand because to shake hands, give or receive, or eat with the left hand is considered impolite. Pointing or summoning someone with your index finger is considered impolite and care should be taken not to climb over places of worship or local monuments.
Clothing
Light, airy, casual clothes are the most practical and you'll find natural fibers like cotton or linen are the most comfortable in Indonesia's often humid conditions. Indonesians are very clothes conscious and it's particularly important to be properly dressed when visiting government offices such as the immigration offices. Indifference to local customs, scanty clothing is not advisable in public places, shorts are not permitted in mosques and women should have their head and arms covered. In Bali, waist sashes should be worn when visiting temples.
Electricity
Power supply is 220 volts/250 cycles in large cities, but 110 volts is still used in some areas. Normal outlets are plugs with two rounded pins (see photo). It is advisable to check electricity supplies before using any appliances.
Telephone Internet Services
You'll find internet cafes in most the major cities. On Bali they are everywhere and you can comfortably get online for anywhere from less than 10,000 Rp to 30,000 Rp ($1-3 US). The connections can be slow so don't expect to do too much web surfing in that hour, but its great for anyone who wants to keep up on email and/or stay in touch with friends and family back home.
Read more
We are sorry, there are no reviews yet for this cruise.