Availability
We are sorry, there are no rooms available at this accommodation at the moment
General
Sehraton Senggigi Resort
Location: Senggigi, Lombok
Rating: 4 Star
Just north of the centre of Senggigi on a beautiful beach, the Sheraton has been, until relatively recently, Senggigi's top resort. And although the newer, hipper spots have stolen some of its thunder, rooms still come with terraces or balconies. The Resort is surrounded by beautiful scenery and approx. 1¼ hours from Lombok International airport. Take advantage of the hotel's sea turtle conservation project, partake in an array of watersports or slip into the uniquely designed swimming pool.
Facilities & Activities:
Take a walk along the private beach, a refreshing dip in the lagoon shaped pool and relax at the Laguna Beach Spa complete with an exclusive range of treatments using locally derived products. Visit the hotel's sea turtle conservation project (turtles are released on Friday afternoon, seasonal), get active on the two competition sized tennis courts (complimentary tennis coach is available) and work out in the health club with fitness centre and whirlpool. Also explore the breathtaking beauty of Lombok with complimentary bike rental.
There's a palm-fringed swimming pool and a kids' pool, two restaurants and a well-regarded spa and health club. Families love it.
Accommodation information:
154 stylish rooms with air-conditioning, television and the ultra-comfortable Sheraton Sweet Sleeper™ bed and tea and coffee making facilities.
Superior Poolside Rooms as above with balcony, ocean views and bathroom with shower only.
Superior Poolside Terrace Rooms feature a private terrace with garden access.
Deluxe Terrace Rooms offer sea views.
Sheraton Senggigi Beach Resort room amenities:
Air Conditioning, Balcony/Terrace, Coffeemaker, Daily Maid Service, Minibar, Free Newspaper (some), Rooms for Non-smokers, Telephone, Refrigerator, Safe (In Room), Television, DVD/VCR (some), Internet Access (Wireless)
Best hotel rates:
Check-in time
14:00
Check-out time
12:00
Check-in time
14:00
Check-out time
12:00
Facilities
24 Hours reception
Air Condition
Bar
Beauty salon
Car rental
Children facilities
Convention & meeting facilities
Fitness center
In room: Free toiletries
In room: Hairdryer
In room: IDD Telephone
In room: Minibar
In room: Safety Deposit Box
In room: TV
Laundry service
Outdoor pool
Private bathroom
Restaurant
Room service
Seating area
Shops
SPA
Facilities & Facts
Sheraton Senggigi Beach Resort Guest Services.
ATM/Bank, Babysitting/Child Care, Car Rental, Children/Teen Programs, Complimentary Coffee, Concierge Services, Currency Exchange, Gift Shop, Laundry Room, Laundry/Dry Cleaning Service, Multi-lingual Staff, Free Onsite Parking, Room Service, Wheelchair Access to Common/Public Areas, Common Area Internet Access (High Speed & Wireless) (additional fee).

Sheraton Senggigi Beach Resort Nearby Activities:
Boating/Sailing, Fishing, Golf Course, Horseback Riding, Scuba Diving, Shopping Mall/Area, Snorkeling Water Skiing,
We are sorry, there are no reviews yet for this accommodation.
Lombok
Lombok is an island in the West Nusa Tenggara province of Indonesia. It is part of the chain of the Lesser Sunda Islands, with the Lombok Strait separating it from Bali to the west and the Alas Strait between it and Sumbawa to the east.
Located just east of Bali, Lombok in many ways lives up to or exceeds the promotional term, "an unspoiled Bali". With beautiful beaches, enchanting waterfalls, the large, looming volcano of Mount Rinjani combined with relatively few tourists, Lombok is indeed the paradisaical tropical island that many people still mistakenly imagine Bali to be now.
Lombok and Bali are separated by the Lombok Strait. It is also part of the bio-geographical boundary between the fauna of Indo-Malaysia and the distinctly different fauna of Australasia. The boundary is known as the Wallacean Line, after Alfred Russell Wallace who first remarked upon the striking difference between animals of Indo-Malaysia and those of Australasia and how abrupt the boundary was between the two biomes.
The Indonesian government is actively promoting both Lombok and neighboring Sumbawa as Indonesia's number two tourism destination after Bali. The President of Indonesia, Susilo Bambang Yudhoyono, the Ministry of Cultural and Tourism and the regional Governor have made public statements supporting the development of Lombok as a tourism destination and setting a goal of 1 million visitors annually by the year 2012 for the combined destination of Lombok and Sumbawa. This has seen infrastructure improvements to the island including road upgrades and the construction of a much delayed new International airport in the islands south. Despite this, Sumbawa retains a very rustic feel compared to Lombok.
Harbour of Labuhan Lombok
Lombok International Airport (Bandara Internasional Lombok) is south west of the small regional city of Praya in South central Lombok. It commenced operations on 1 October 2011. It replaced Selaparang airport near Ampenan. It is the only operational international airport within the province of West Nusa Tenggara (Nusa Tenggara Barat).
Selaparang Airport in Ampenan was closed for operations on the evening of 30 September 2011. It previously provided facilities for domestic services to Java, Bali, and Sumbawa and international services to Singapore to Kuala Lumpur via Surabaya and Jakarta. It was the island's original airport and is situated on Jalan Adi Sucipto on the north western outskirts of Mataram. The terminals and basic airport infrastructure remain intact but it is closed to all civil airline traffic.
Lembar Harbour seaport in the southwest has shipping facilities and a ferry for road vehicles and passenger services. In 2013, the gross tonnage is 4.3 million Gross Tonnages or increase by 72 percent from 2012 data means in Lombok and West Nusa Tenggara the economy progress significantly. Labuhan Lombok ferry port on the east coast provides a ferry for road vehicles and passenger services to Poto Tano on Sumbawa.
Climate
While tropical, hot and humid, Lombok is drier than neighbouring Bali, which makes it a particularly attractive option during the Oct – Apr rainy season (it rains on Lombok too, but rarely for more than an hour or two). The peak of the tourist season, though, is May till August.
People & Culture
Lombok has a rich and enduring indigenous culture that has withstood the pressures of modernity remarkably well. The strong remnant culture and history of the Sasak people is one of the many unique attractions of the island. The island has of a total population of 3,166,685 (as of 2010 Census), 85% are indigenous Sasak people whose origins are thought to have arisen from Java in the first millennium BC. Other residents include an estimated 10–15% Balinese, with the small remainder being Tionghoa-peranakan, Javanese, Sumbawanese and Arab Indonesians. The Sasak people are culturally and linguistically closely related to the Balinese, but unlike the Hindu Balinese, the majority practice local Muslim faith and traditions.
Since the Sasak population typically practice Islam, the landscape is punctuated with mosques and minarets. Islamic traditions and holidays influence the Island's daily activities.
The Christian minority religion is actively practised in Lombok by some of Chinese ethnicity and other Indonesians especially those from East Nusa Tenggara.
There is also a small Arab community in Lombok whose history dates back to early settlement by traders from Yemen. The small community is still evident mainly in Ampenan, the old port of Mataram and retain many of their own traditions.
Getting to Lombok from Bali
Flight from Bali (Ngurah Rai Airport) to Lombok International Airport is about 40 minutes and get on the taxi to the main tourism object (Senggigi) it will tak about 1 hour to get to Senggigi from the Airport. If you stay in Kuta (South Lombok) you can get on the taxi as well, it take about 30 minutes.
Ferry: Get on the ferry from Padang Bai (Northeast Bali) to Lembar Harbor (Lombok) for 4 to 5 hours, then get on the shuttle bus to your destination in Senggigi for 1 hour and Mataram about 30 minutes. Ferry are departing every hour from Padang Bai.
Fast Boat:  Some of fast boat operator serve a daily departure from Bali (Padang Bai or Benoa) to Lombok (Senggigi), the fast boat takes only 1 1/2 hours and they also provide a free hotel pick up in Bali for the following areas; Kuta, Legian, Seminyak, Nusa Dua, Jimbaran, Denpasar, Sanur and Ubud. You can book direct to the fast boat operator or some tourist information in Bali. For the cheapest fast boat you can find through online booking via some of the fast boat booking postal Gilibestdeal. The price that they offer start from $30 USD per person for one way,they will provide you an electronic boat ticket Fastboat services are provided for passenger movements between the nearby island of Bali and principally serve the Gili Islands, with some limited onward traffic to the Lombok mainland. Landfall is on one or more of the Gili islands dependent upon the operator and on the mainland is at either Teluk Nare/Teluk Kodek, or the township of Senggigi, both on the nearby west coast of the main island of Lombok. The services are controversial in nature in that the majority of the services use craft unsuitable to the conditions, with questionable safety standards and inadequate levels of crew training for operations in open water.
Pelni Shipping Line provides a national network of passenger ship services throughout the Indonesian archipelago. Pelni have offices in Ampenan.
Places:
Senggigi Beach Lombok is the main tourist strip of the Indonesian island of Lombok, stretched out along the several kilometers of the beachfront, just to the north of the capital Mataram. The site of a building frenzy in the late 1990s when Lombok was hyped to be the next Bali, the communal violence of 2000 and the 2002 Bali bombing dealt Senggigi a severe blow, with tourist numbers declining precipitously and many construction projects halted.  Senggigi Beach Lombok is the most developed area for tourists on Lombok. You can find a variety of restaurants, bars, discotheques, travel agents, photo processors, money changers, souvenir shop and a range of accommodations starting from budget guest house to 5 star hotels. Restaurants and small cafes line the colorful main beach road. Swimming off the beach is safe. Further north Mangsit has developed as an accommodation alternative to Senggigi with boutique style hotels positioned along the breathaking beaches this section coast.
Check here for the best hotels in Lombok

Gili Islands — three islands off the west coast of Lombok.   Every year the Gilis attract tens thousands of visitors from around the world for their pristine waters, great diving and snorkelling opportunities, and laid back charm.  The word Gili means "small island" so these islands have come to be known as "The Gili's Tramena" by travellers. The Gili's are Lombok's most popular islands and are consistently related as top Sea island destinations by travellers and travel publications.  There is a good selection of accommodations, restaurants and bars on all three islands, with the bigest range on Gili T. While no body comes to Gilis for shopping, each islands has many small shop selling essentials such as sunscreen, mosquito repellent, toileteries, cold drinks, snacks and more. In addition, there are cheap clothing and t-shirts, sarongs and local handicrafts stalls. The islands provide ample opportunities for visitors to swim, relax, sunbathe, ecplore, snorkel or scuba dive with many internationally accredited dive operators based in Lombok.  An impressive array of sea life can be seem arround the Gilis, including green and hawkbill turtles, morays, barracuda, reef sharks, occasionally leopard sharks and manta rays and much more. Visibility is very good and commonly in the 15-30 meters range and water temperatures average 23 C(73F) to 29C (84F). Currents around the islands can be quite strong and drift diving is the normal.

Gili Trawangan is the largest among the three Gilis, known as the party island with 340 hectares width. It is the only one rising significantly (30 m) above sea level. The population is about 1500. Trawangan originates from the Indonesian word Terowongan (Tunnel) because of a cave tunnel built there during Japanese occupation. Trawangan is the most developed and geared towards tourism. It concentrates settlement, recreation, accommodation and diving business. It is the smallest island in the world with an Irish pub. It is  previously administered under North Lombok regency. The transportation are bicycles and cidomo, a small horse-drawn carriage. To travel to and from each of the Gilis, the locals commonly use motorised boats and speedboats. The first inhabitants of Gili Trawangan were fishermen and farmers fromSulawesi. Gili Trawangan was covered in forest and deer lived on the island.The economy is based on tourism.

Gili Nanggu: The beauty private island off the west coast, close from Lembar ferry harbour. a nature conservation and protection of sea turtles  Gili Nanggu has a stunning underwater scenery.

Kuta Beach Lombok attract visitors for its beautiful virgin beaches and surfing spots. Surfers from all over the world find Kuta Lombok as a surfer paradise. South coast of Lombok is famous for the high waves and Kuta Lombok is a good base for the surfers. Many visitors come back year after year to surf the famous Kuta waves. Whether you are an experienced surfer or a beginner you will find the surf spot for you. Surf boards & boogie boards are available to rent or bring your own. You will need transport to the waves from Kuta, most guests choose to rent motorcycles which come with a special surf rack attached.

Mt Rinjani, Lombok's famous volcano, soars 3726 meter above sea level and is the second highest volcano in Indonesia, attracting thousands of trekkers and climbers annually. The huge crater near the top contains a beautiful lake called "Danau Segara Anak" and a smaller volcanic cone called "Gunung Baru Jari", which was formed a couple of hundred years ago. There are number of caves and waterfall and hot springs located around the volcano. The Mount Rinjani National Park extends over an area of 41,330 ha. with the surrounding protected forest covering 51.500ha. Community base activities are conducted in conjunction with the Rinjani Trek Center in Senaru. Mount Rinjani and Lake Segara Anak located in the north of Lombok 85 kilometers from Mataram, Mount Rinjani is the second highest peak in Indonesia standing at majestic 3726m.
For the people of Lombok Sasak and Balinese alike, treat this mountain as a sacred place, they consider the Gods live at the summit of the mountain.

Bangsal is at the crossroads where the coastal road meets the Pusuk Road, with Jalan Raya (the main road) continuing north all the way around the island to the east coast. The road to the west only runs about 1 km to Bangsal Harbour, which is the main point of departure for public boats out to the Gili islands.  Bangsal is a pretty village with a large Balinese Hindu population, surrounded by rice fields, temples, and close the ocean and the mountains. There are a few small home-stays and Bangsal makes a good base for exploring the north.

The Sendang Gile waterfalls at Senaru are amongst Lombok's most spectacular, even after climbing the 200 vertical steps down to stand below them. The water cascades in a steep vertical drop down the hillside into a rocky stream below.
History
The Dutch first visited Lombok in 1674 and settled the eastern most part of the island, leaving the western half to be ruled by a Hindu dynasty from Bali. The Sasaks chafed under Balinese rule, and a revolt in 1891 ended in 1894 with the annexation of the entire island to the Netherlands East Indies.
Lombok Facts:
Location : South East Asia
Coordinates : 8.565°S 116.351°E
Archipelago Lesser Sunda Islands
Area : 4,725 km²
Highest point : Rinjani (3,726 m)
Country : Indonesia
Province : West Nusa Tenggara
Largest city : Mataram
Demographics
Population : 2,950,105 (as of 2005)
Density : 792⁄km² /km² (Expression error: Unrecognised word "km" /sq mi)
Ethnic groups : Sasak, Balinese
---
Lombok Hotel Map:

[tp_hotelmap_widget coordinates="-8.494654, 116.044166" width=600 height=500]

Zoom in  and get the best rates for Lombok Hotels !
Attractions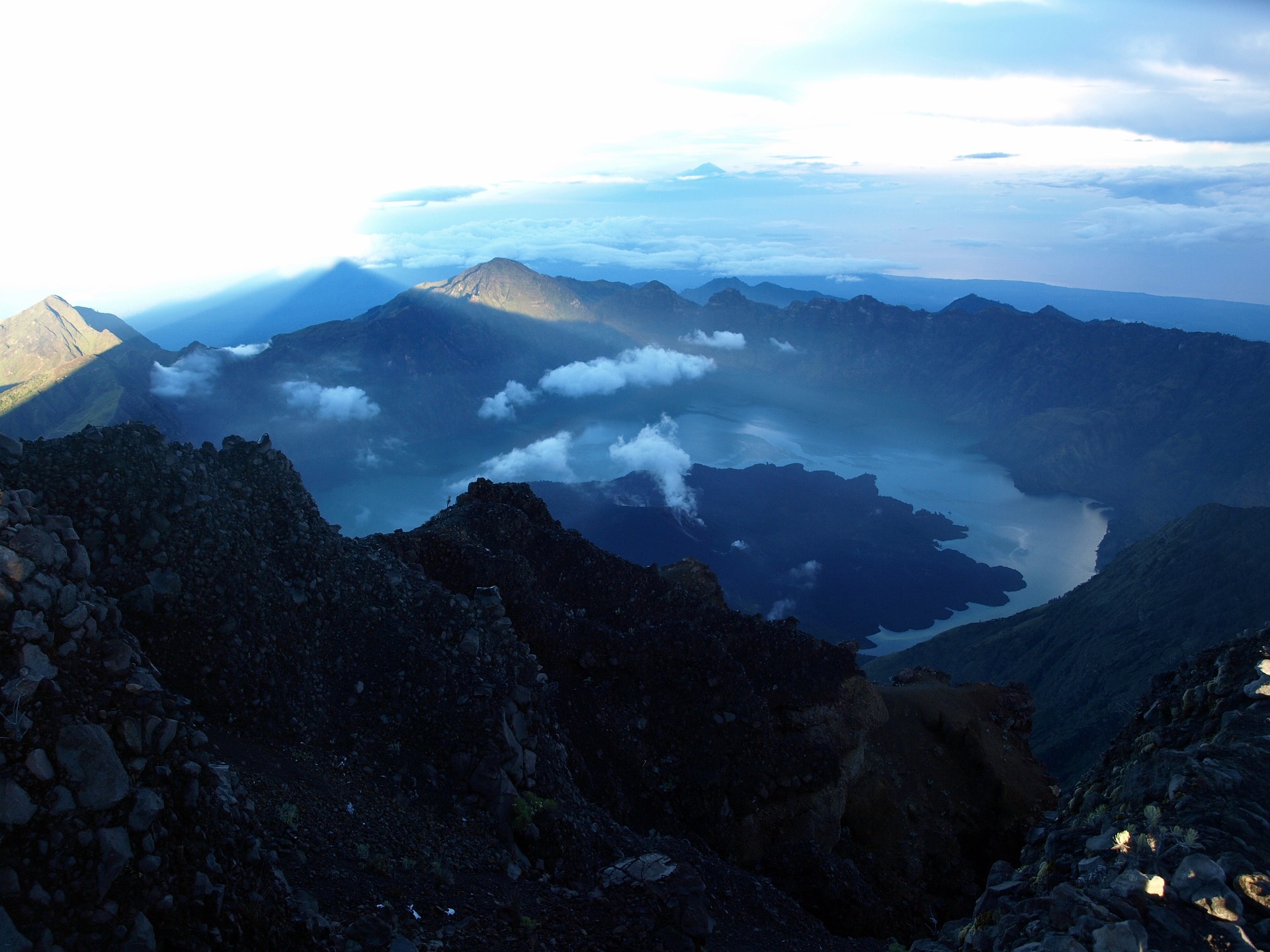 3 paradise islands – which seem tiny compared to Lombok – are located only 20 minutes away by boat: Gili Trawangan, the main island, Gili Meno and Gili Air. The Gilis are very popular for scuba diving and snorkeling but also for relaxing, swimming and partying. Backpackers and tourists visit especially Gili Trawangan often. Over here you can feel the lively reggae-ganja-magic-mushroom-vibe ;). The Gili islands are a MUST!!!

Mount Rinjani - The second highest volcano of Indonesia is definitely one of THE highlights of Lombok! You can book multi-day, guided tours to the Crater Lake and even to the top at all touristy spots. The pictures speak for themselves… Trail to the Mount Rinjani, Lombok, Indonesia.


Senggigi - Most tourists arrive in Senggigi because many hotels are located over here. It's also great for going out at night or eating. One of the most popular surf spots for locals and tourists alike is Senggigi Beach. At this beach the vendors and locals aren't pushy at all but you can have a nice small talk if you like (mainly about football since Indonesians love football).

Pusuk Monkey Forest - Taking a winding road through a breathtaking mountain landscape is the second option to get to Bangsal. It's were one finds the so-called monkey forest, named after the numerous wild monkeys in the jungle and near the street. Feed the hungry and annoying little bastards at the view points if you like :D. But be careful and look for your bags, backpacks and such.

Kuta Lombok - After Senggigi, Kuta is probably the second tourist hotspot on Lombok. It offers beautiful beaches as well and lots of accommodation and restaurants. From here you can explore the dream beaches of Mawun, Tanjung Aan and Selong Belanak since they are very close by (see below). Even Kuta beach itself is worth a look.

Pink Beach - This is a Insiders' tip! You need a good driver or strong nerves (especially if you go with a scooter) to get to this one! The drive is quite difficult since in my opinion the streets cannot be called streets anymore. But the beach is wonderful !

The Sasak are the indigenous people of this island, which today make about 85% of the total population of Lombok. Their culture is fascinating and as a visitor you definitely need to experience it. Their food known for its spiciness, their handicraft, their music and dances, the typical Sasak houses or a Sasak wedding with (extreme loud) street parade with "Gendang Beleq" musicians you need to experience.

Lombok Waterfalls at Senaru, Benang Stokel & Kelambu Waterfalls
The Senaru Waterfalls are a thing of beauty. When you are walking through a rather isolated part of the island and suddenly a roaring waterfall beckons you to come near you truly understand the scope and power of nature.

Mosques and Hindu temples - In contrast to Bali, Lombok and the rest of Indonesia are mainly Muslim. That is why you can see and especially HEAR mosques everywhere. If you book your accommodation in advance you should inform yourself if it's closely located to a mosque. Especially around Ramadan it could become very noisy.
Things to do: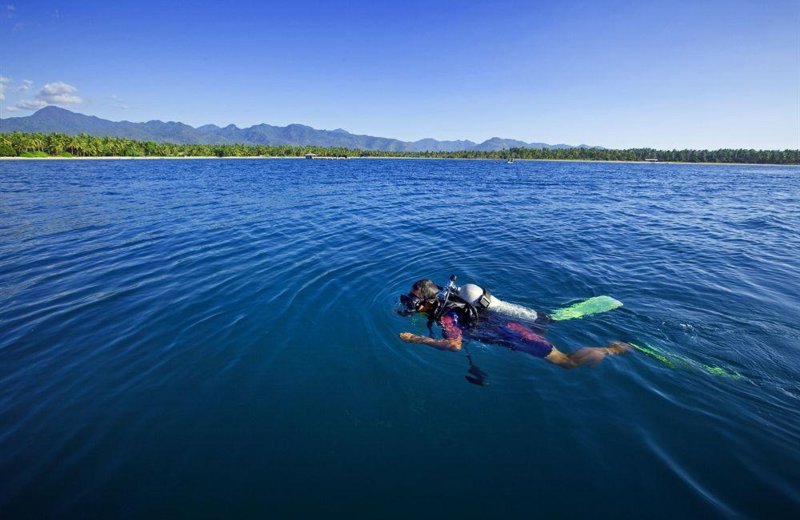 Lombok's real beauty lies in its amazing diversity where windswept palm fringed beaches, pounding surf, dense rainforests and quaint mountain villages can all be experienced in a day. The island is rightly famed for its pristine tropical beaches but if you like a varied diet of eco-adventure, a little art and culture and thrills above and below the waves, then Lombok definitely is the place to be.

Hiking & Treking Rinjani Volcano
At almost 4,000 metres high, climbing Lombok's soaring Rinjani peak is no walk in the park but with time (allow three full days for the climb) and above average fitness levels, it's an experience not to be missed. This is a monumental volcanic peak that covers a large proportion of north Lombok; be rewarded with awe-inspiring views at sunrise spanning as far away as the islands of Java and Sumbawa to the east. Best of all, en route to the summit take a refreshing dip or go fishing in the huge fresh water crater lake at almost 3,000 metres above sea level. Please find in our tour programs the Lombok Trekking Tours.


Golf
Lombok Golf Kosaido Country Club sits on the northwest coast of Lombok beside the clear blue waters of Sire Bay. The 18-hole championship course is situated just 45 minutes away from Selaparang Airport and offers a unique and challenging golfing experience for golfers of all levels. Holes one to nine face the sea, including one of the course's signature holes, which sits opposite white sandy beaches; the remainder of the course faces the mountain. Lombok Golf Kosaido Country Club is a great place to play golf during the warmer temperatures due to the cool breeze coming in from the sea and through the shade provided from the palm-leaf canopy.

Diving at the Gili Islands
Divers will be amazed at the variation in sea life when diving off the Gili Islands. From manta rays to hawksbill turtles, you will see a whole new world off the West Coast of Lombok.

Visit a traditional Sasak Village – Rural Village
No one can help you understand daily life like a local. Visit Senaru Village and have a local take you on a walking tour. As the locals are the cultural guardians of Mount Rinjani you will learn the history and meaning of the mountain along with seeing the beauty that it brings to the area.

A Summer Garden
For those that cannot make it to the top of Gunung Rinjani, visit Taman Narmada to visit the miniature replica of the summits crater.

Visit the traditional markets.
The markets are typical Asian with fresh veggies, spices, fish and so much more. I recommend strongly the traditional market in Ampenan. Every now and then locals look in astonishment at a "Bule" (westerner) since they don't come often over here ;). There is no cheaper or fresher place to do food shopping even though as a "Bule" you should consider paying more than a local. It is of advantage to speak a little Indonesian.

Restaurants
Ashtari Restaurant: Best view in South Lombok, delicious local food. Cafe Alberto, Lombok: Italian Atmosphere on a Palm Beach. (Senggigi)
---
Read more